Hyderabad: The public has marked their outrage, demanding justice for the Dalit woman, who was raped and murdered by a group at Lingapur in Komaram Bheem. Amid the widespread protests, the Telangana government has finally decided to set up a fast track court to try the accused.
The crime happened on November 25, barely two days before the rape and murder of Hyderabad veterinarian Disha. However, things didn't move quickly for the Dalit girl, as it was in Disha's case. Even the arrest of the accused came after a series of protests by community members.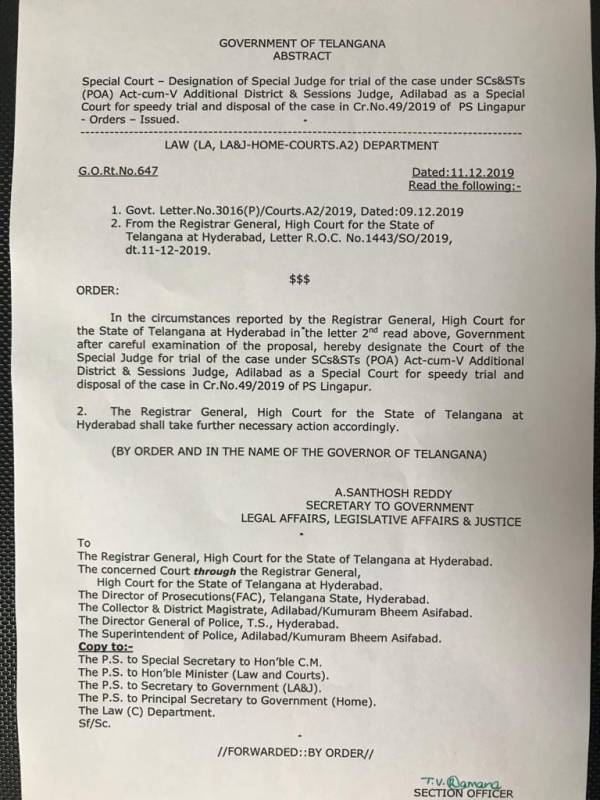 Telangana government made a quick decision to establish a fast track court for Disha's case. Moreover, the latter gained prominence as many important personalities such as Telangana governor, ministers, and celebrities took the issue forward, extending their support. However, there was no word in the case of the Dalit woman.
While there was a demand to expedite the investigation in the Dalit woman's case, and for a fast track court, the decision was delayed. Finally, on November 11, Telangana government released an order designating the Court of Special Judge for trying the case under SC and ST Prevention Act. The order also designated V Additional District and Sessions Judge Adilabad as a Special Court for speedy trial of the case.