Highlights
Ever since the first case, Telangana has only conducted 1,10,545 tests
The state currently has the highest test positivity rate.
297% rise in positive cases in 14 days
Hyderabad: The number of COVID-19 cases in Telangana crossed the 22,000 mark as the state reported 1,850 positive cases on 4 July. However, even after the High Court's order to ramp up testing in the state, Telangana has the second-lowest testing rate nationally.
For every 1 million people in Telangana, only 2,970 tests have been conducted as of Saturday. Bihar had the lowest rate with 2,200 tests per million population.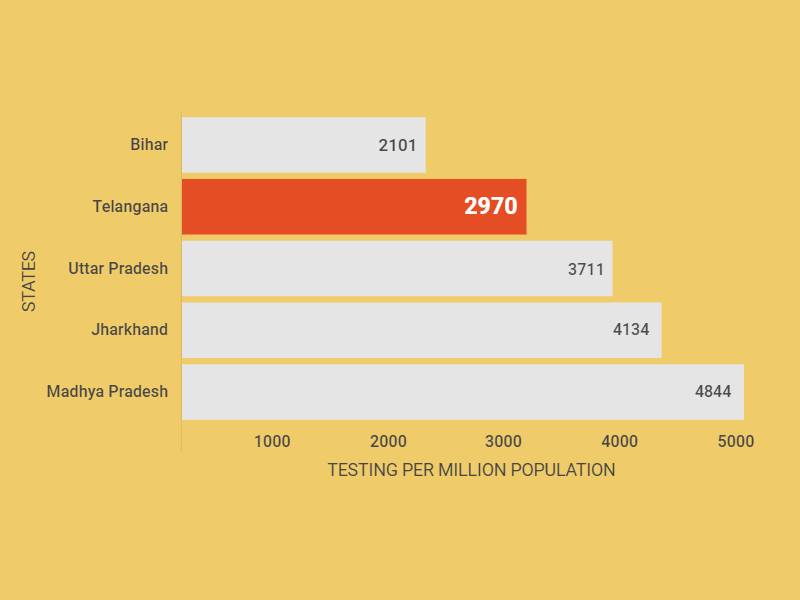 (Five states with the lowest number of per million population tests, Telangana second-last
Source: https://www.covid19india.org/)
Until the first week of June, the Telangana government had been against allowing private laboratories to conduct COVID-19 tests. Between 2 March and 14 June, only 43,180 tests were conducted in the state. After sharp criticism for the same, testing was ramped up. Between then and 4 July, 67,365 tests have been conducted.
"Due to unavailability of resources, poor tracing, and the casual attitude the state government had at the beginning of the pandemic, our testing rates were not taken seriously," commented Dr. Venkateshwar Rao, a medical expert from Telangana. He further added that until the end of May, TS government did not follow ICMR guidelines and was "casual in testing the asymptomatic primary contacts of the index patient."
On 25 June, the government announced that it would stop testing for two days to clear a backlog of the samples that had piled up. Before that, the state was conducting 2,500-3,000 tests a day on average. In the last week, the authorities have conducted almost 4,000-6,000 tests per day.
"If we want to catch up, we have to do a minimum of 20,000 tests per day," Dr. Rao also said.
The state also has the highest cumulative test positivity rate – 20.1 per cent. This means that of the 1,10,545 citizens tested, 22,312 have been declared positive for corona virus. According to the data released by the ministry of health and family welfare, on 4 July, of the 6,427 people who were tested, 1,850 tested positive, a whopping 28.7 per cent.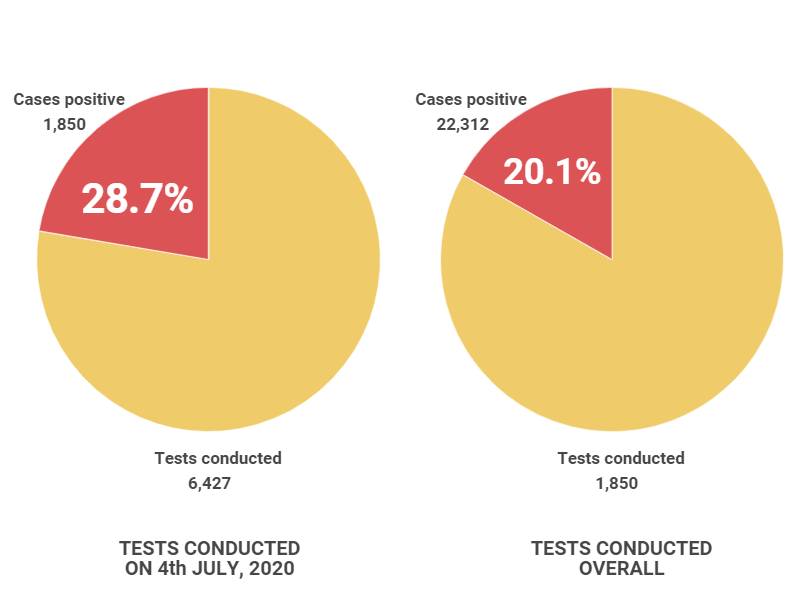 (Coronavirus tests conducted in Telangana- July 4th and overall
Source: https://www.covid19india.org/)
Owing to the low, yet relevant, rate of increase in testing, Telangana has seen a 297 per cent rise in positive cases in the past 14 days. The state also has a lower mortality rate than the national average – 1.29 per cent.
"The fact that we didn't engage with private labs and didn't utilise the lockdown period to do aggressive testing, is why our numbers are shooting up so high now," Mr. Rao concluded.