Hyderabad: Indian Meteorological Department has announced a 'cold wave' for Telangana on December 30 and 31, marking a cold departure to 2019. Chilly wind from eastern Himalaya, responsible for engulfing Delhi and Haryana, will prevail over Telangana for 48 hours. "Cold wave conditions likely to prevail at isolated places in the districts of Adilabad, Karimnagar, Nirmal, and Mancherial of Telangana," the forecast read.
On December 29, several districts witnessed an unprecedented dip in temperatures. Adilabad, which is located in the northern belt of the state, registered 6.5°C — the lowest so far in the season. Meanwhile, Ramagundam followed with 11.4°C. Hyderabad woke up to a chilly morning, with the morning at 14.5°C, the lowest recorded for December.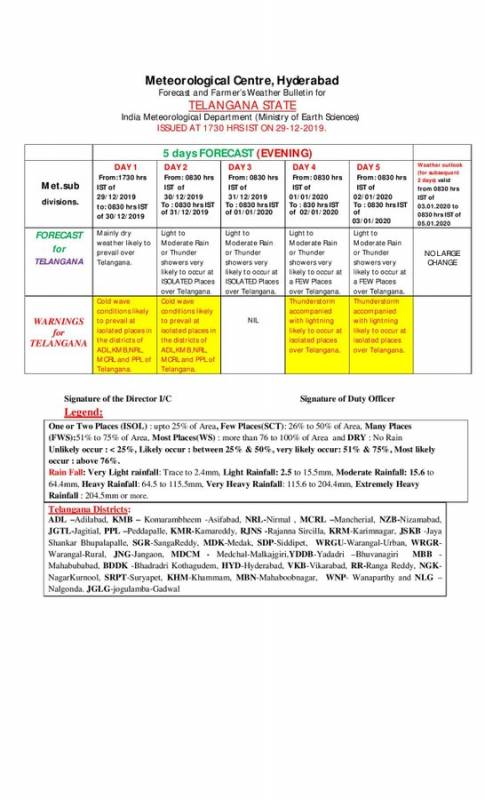 Chief Meteorologist for Skymet (an independent weather observatory body), Mahesh Palawat, explained, "Winds from the western Himalayas will prevail over Telangana for 48 hours, resulting in cold wave condition. However, the weather pattern will change with the arrival of South-Eastern winds that are warm."
According to the forecast, the New Year will begin on a wet note. IMD has announced thunderstorm, accompanied by lightning, to occur at isolated places over Telangana on January 2 and 3.
Mahesh further adds, "After New Year temperatures will see a rise, subsequently leading to a thunderstorm. It is due to the moisture from Arabian sea and Bay of Bengal travelling towards Telangana, combining with warm winds."
The department has issued a thunderstorm warning for districts in Andhra Pradesh as well.