Hyderabad: Telangana ranks ninth among Indian states in terms of the number of police stations with 815 stations, according to data released by the Bureau of Police Research and Development, Ministry of Home Affairs.
Neighbouring Andhra Pradesh has 1,023 police stations and ranks seventh while Tamil Nadu tops the list with 2,019 police stations.
Of the 815 police stations in Telangana, 415 are rural police stations, 258 urban, while 106 are traffic and specialised stations. Meanwhile, Andhra Pradesh has 714 rural police stations, 225 urban stations, and 84 other stations.
Telangana has a population of 3,50,03,674, therefore, it has 233.3 police officers per lakh population, according to the bureau. AP has a population of 49.67 million as per the 2011 Census. It has 147.7 police personnel per lakh population. Manipur tops this list with over 1,314.54 police personnel per lakh population.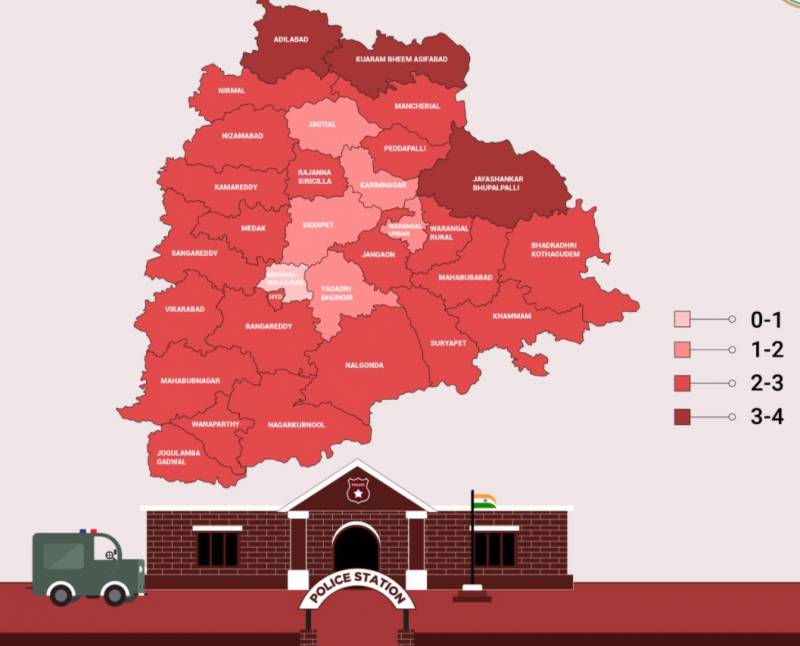 Number of the police station for every lakh population, source [email protected]
According to the Bureau of Police Research and Development, Telangana has police personnel per 1.37 sq km while in Andhra Pradesh it is per 2.23 sq km.
Also, the number of women police officers in India increased by 9.52 per cent in 2019 to 1,85,696 (as on January 2019). It was 1,69,550 in 2018. The maximum number of women personnel, 27,660, is in Maharashtra, while Andhra Pradesh has 3,456 female officers and Telangana only 2,198.
Telangana also ranks fourth in terms of vacancies with a shortage of 26,156 police personnel after Uttar Pradesh (82,195), Bihar (35,813), and West Bengal (37,767). Andhra Pradesh is in a better position with only 5,966 vacancies.