Hyderabad: Telangana's rank in School Education Quality Index (SEQI) has come down to 18th from 17th with 39.0 per cent, according to the latest report released by NITI-Aayog whereas Andhra Pradesh stands at 11th position.
According to the report, Kerala has been ranked first with 82.2 per cent score followed by Tamil Nadu and Haryana among the 20 large states. Uttar Pradesh ranks last with a score of 46.5 per cent. Among small states, the overall performance score varied from 68.8 per cent for Manipur to 24.6 for Arunachal Pradesh. In Union Territories, the overall performance score ranged from 82.9 per cent for Chandigarh to 31.9 per cent for Lakshadweep.
The SEQI is prepared based on the quality of school education, infrastructure, facilities, learning outcomes, etc. provided by the State. Most States and UTs performed better on Learning Outcomes than on Governance Processes Aiding Outcomes. However, there is variation within these categories in terms of specific areas of strength and weakness.
Out of the 20 large states, 18 improved their overall performance score between 2015-16 and 2016-17. States like Haryana, Assam, Uttar Pradesh, Odisha, and Gujarat showed high rates of improvement, with increases of 18.5, 16.8, 13.7, 12.4 and 10.6 percentage points respectively.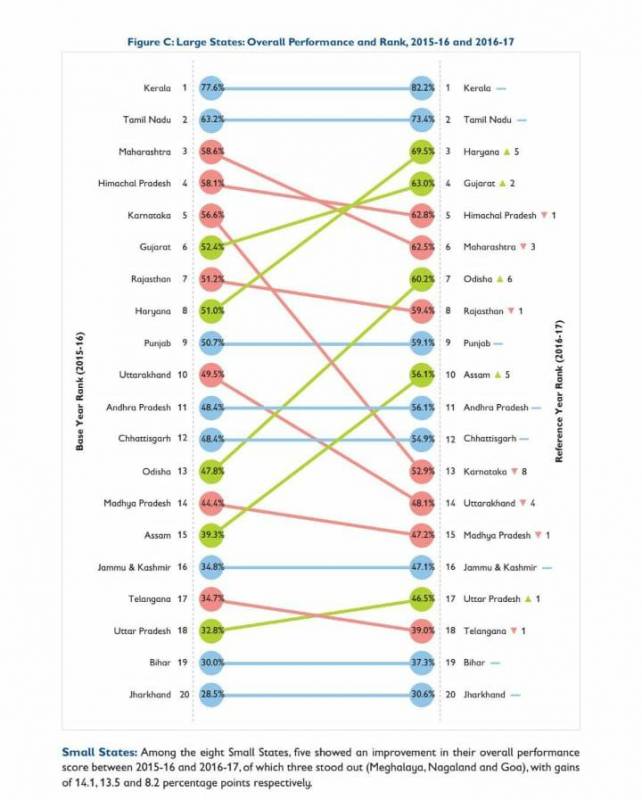 Among the eight small states, five showed an improvement in their overall performance score between 2015-16 and 2016-17. Of which, three states — Meghalaya, Nagaland and Goa — stood out with gains of 14.1, 13.5 and 8.2 percentage points respectively.
Karnataka, Rajasthan, Kerala and Andhra Pradesh have the highest scores on the Outcomes category, mainly due to their strong performance on Learning Outcomes. Uttar Pradesh, Punjab and Jammu & Kashmir have the lowest Outcomes category scores.
According to education experts, system failure, a large number of unfilled vacancies, insufficient budget allocation, and lack of progressive initiatives to modernise education are among the few reasons why Telangana could not score top ranks such Kerala or Tamil Nadu.
Pointing out the reasons behind Telangana's low rank, Anjali Rajdan, an education consultant and former Principal and Director Academics of AMS P Obul Reddy Public School said that it reflects government school education rather than private. "Primary reasons for Telangana's low ranking are lack of teachers, low accountability of stakeholders and passing the blame without introspection. Besides, tertiary importance is given to the education sector, examples being incorrect textual matter, slipshod handling of examinations and results, out-dated and irrelevant teachers training could be symptoms of poor performance. The stakeholders should have a progressive attitude towards education to achieve top ranks like Kerala and Tamil Nadu. The need, empathy, and drive to emphasise with quality rather than quantity might bring about a change."
Chava Ravi, an education expert, said, "Large number of unfilled vacancies, lack of monitoring and infrastructure, and insufficient budget allocation are the main reasons for the depreciation of quality in school education. Government has to increase the budget and try to rectify the defects."
N Narayana, Chairman of CESS, said, "Low level of inputs is the main reason for Telangana's low 18th rank in SEQI. Elementary schools are suffering from 44 per cent of teachers' shortage; while in Secondary Schools, there is a shortage of subject teachers. 27 to 28.29 per cent of schools have a single teacher to teach five classes, seven periods, and 22 subjects in a working day. How is it even possible? No teacher was recruited from the base year 2015-16 to reference the year 2016-17. Unless the state government overcome these weaknesses, Telangana will not be able to improve its poor SEQI score."