Hyderabad: The 24-year-old techie, who was the first coronavirus patient in Telangana, has been discharged from Gandhi Hospital on March 13. After he was tested negative for COVID-19 in the two subsequent tests that followed, the software employee was discharged from the isolation ward at around 9 pm on Friday. The corona patient has been declared cured, while precautionary measures still need to be taken, according to doctors.
Speaking to NewsMeter, superintendent of Gandhi Hospital, P Sravan Kumar said, "The patient has fully recovered from coronavirus, as of now. However, as a precautionary measure, we have advised the patient to remain in "home quarantine" for the next 14 days at least. There is no need to worry now, unless the patient shows new symptoms after this."
The doctor also specified several measures that the patient needs to take while under home isolation. "It is important to have nutritious food, which includes a high-protein diet. Moreover, the patient should ensure that he does not come in close contact with anyone, including family members," he said.
The software employee, who works in Bengaluru, was tested positive for coronavirus on March 2, following which he was kept under strict quarantine in Gandhi Hospital, Secunderabad. The patient had reached to Hyderabad on February 23 via Bengaluru from Dubai.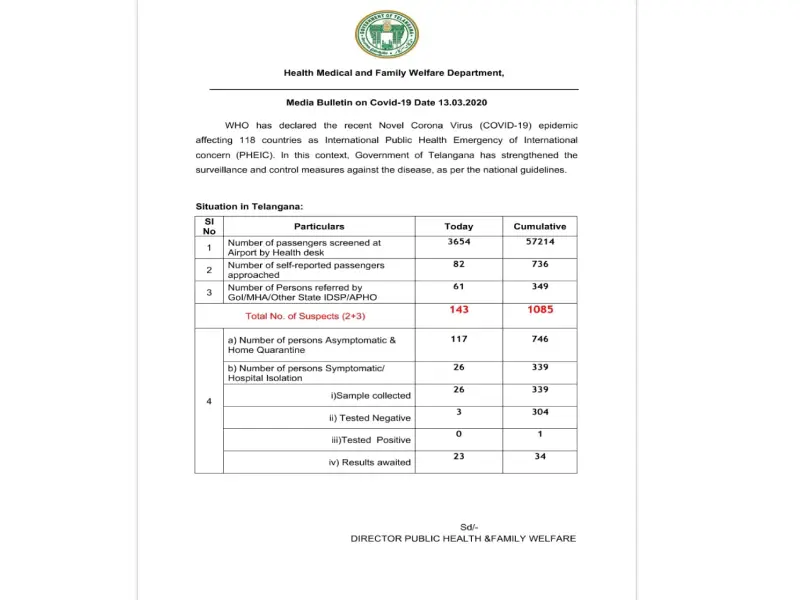 Meanwhile, the Telangana health department is on the alert as every day 25-30 samples are being sent to the laboratory, according to G Srinivas Rao, Director of Public Health, Telangana. "With the death of the 76-year-old man who had come from Saudi, contact tracing has been done and 39 people have been kept under observation as of now." It may be recalled that the 76-year-old man from Karnataka, who had died due to COVID-19 on March 10, had visited three private hospitals in Hyderabad for treatment, before leaving to his native place. This was the first COVID-19 death reported in the country.