Hyderabad: Sheik Ramzani was 10 when he left his village in Uttar Pradesh to join his brother in Hyderabad. Eighteen years later, he is a skilled polisher of wooden temples for households.
"My elder brother brought me here. Now he has left and I have settled. Hyderabad has become my home now. My family is still in UP, but I have spent a major part of my life in this city. Nothing much is left for me in my village," Ramzani told NewsMeter.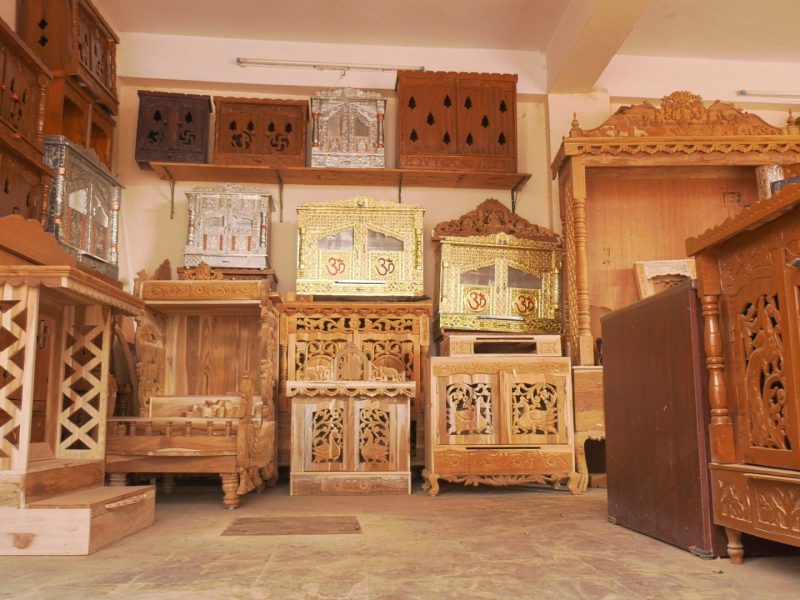 Ramzani is among hundreds of Muslim men from UP's Saharanpur district who have been busy crafting beautiful wooden temples at Hyderabad's Tarbund crossroad for over four decades, in a quiet display of interdependence of different faiths in the country.
A little distance from Tarbund crossroad, nearly 35 shops stand cheek-by-jowl in a narrow lane, producing small and large wooden temples. Some travel all the way to the US.
Mehboob Hussain from UP began his shop in 1985. He said, "Muslims run all the shops here. We have been carving temples in Hyderabad for 40 years now. From childhood, we are into wood crafting."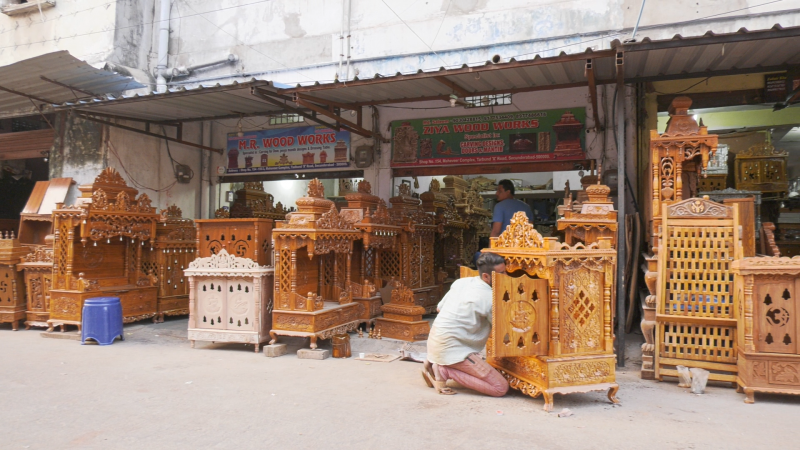 Hussain said the art of carving has been brought from Saharanpur, which is internationally known for its fine woodcraft. "This is the only skill we know, and there is no much job in UP. Those who have mines and land will stay, others come here in search of a living. Our life runs in this business."
According to the craftsmen in the market, they are sticking to the business despite a downturn in the past two years. "We sit idle some days. All the shops here are on rent. Per day we need to pay around a thousand rupees as rent. On off-seasons, we might get one customer a day. But we cannot leave this craft because from childhood this is the only skill we developed. We don't know any other job," said a shopkeeper.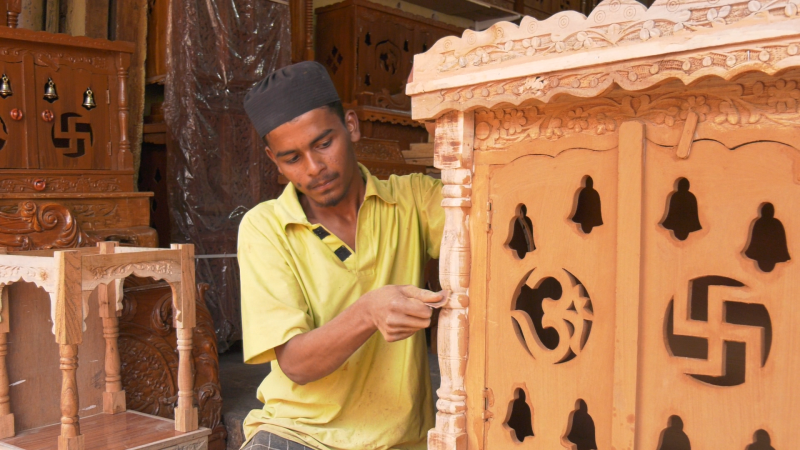 Plywood temples take about three days, while artisans need a month to carve a temple on teak wood. "It all depends on the wood and design," said a craftsman. Artisans like Ramzani work for 12 hours daily and earn Rs 600. Ramzani is also a skilled carpenter. Whenever free, he goes outside for carpentry.
Muhammad Rafeek, along with his nephew, has been running a shop at Tarbund for the last 15 years. "We do a minimum of 35 temple designs and sell them at a wholesale rate. Once a customer places an order, we will deliver the product at their home in two days. We also offer ten years of service assistance."
Wooden temples at Tarbund cost between Rs 800 and Rs 50,000. Though they are available in various sizes and designs, small box-shaped temples that can be hanged on walls (Peeta) are mainly in demand.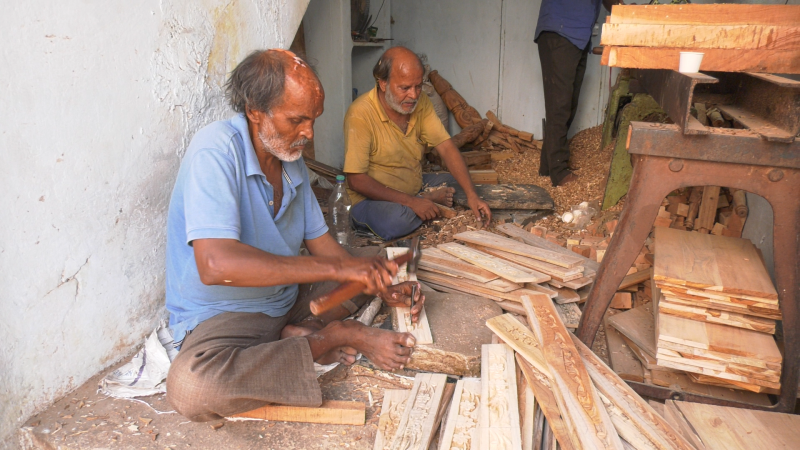 Another craftsman from Hyderabad, said, "To complete a temple we need at least four people – a supervisor, carpenter, someone who is skilled at size cutting and a polisher. For huge temples of Rs 50,000 range, we take up to 10 days. Apart from Hyderabad, most orders are from the US."