Hyderabad: For Rajamma, walking over four kilometres every day is no big deal. But amidst the COVID-19 lockdown, despite restrictions imposed on movement, this 80-year-old woman from Jagtial walks over four kilometres just to share her daily ration of food with the dogs, who wait for her every day at the small temple, a few kilometres away from where she lives.
Rajamma leads a simple life and ekes out her livelihood by collecting firewood from the area beside the temple in Kondagattu, and sells it at the market. Before the lockdown, she used to make a meagre amount of Rs 100-120 per day, with which she used to make both ends meet. After the state-wide lockdown was announced, the octogenarian has been living at the mercy of NGOs and State officials. However, she makes it a point to feed the dogs with whatever ration she has received, climbing up-hill towards the temple, without fail every day.
One cannot forget to feed one's own kids right, asks Rajamma. "I live alone here, and I feel that these animals are like my kids, so I feel that I should feed and look after them every day. I did not begin this yesterday or today. I have been feeding them for many years now," said Rajamma, with a smile.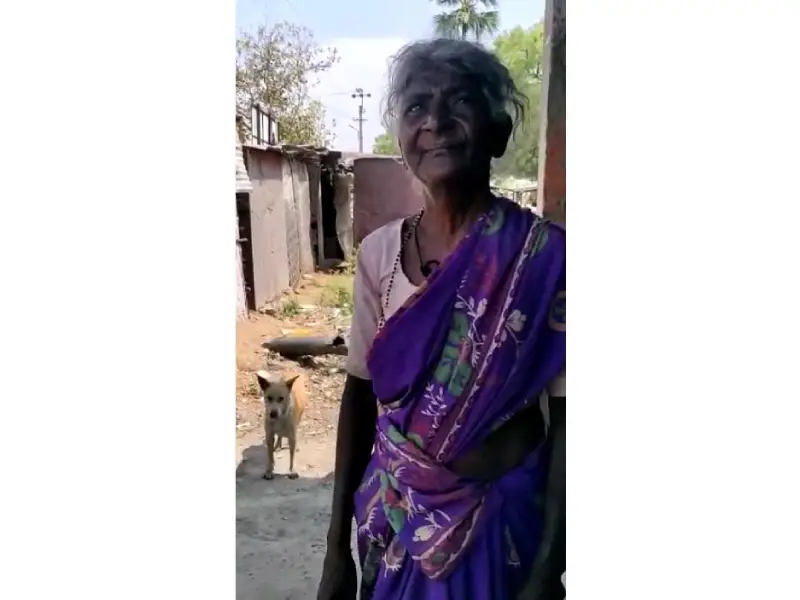 Are there days when she goes hungry? "Yes sometimes, I do not have enough food for myself. But on most days, I am able to save the ration and share it with the dogs. If I get two packets of rice, I keep one packet aside for the dogs. This is how I've been doing for the past many years," she says.
Rajamma's kind gesture was noticed by an activist Bhavin Balodi, known for his 'Clean Karimnagar dam' initiative. "Rajamma lives all by herself, in an almost dilapidated hut in Kondagattu. She is originally a native of Daroor, but has been staying here in Kondagattu for the past thirty years. We saw her feeding the dogs while we were distributing food. It is heart-touching, whatever she does for those animals," Mr Bhavin said.