Hyderabad: For those who preach hate, this should serve as an eye opener. A local mosque has opened a Community Health Care Center in Wadi al Mahmood to cater to the health needs of women and children of 31 slums in the Rajendranagar Mandal of Hyderabad.
Set up by Helping Hand Foundation in collaboration with SEED, USA, the Center has been set up at Masjid Mohammed e Mustafa.
The Center is located on the first floor of Masjid and it will cater to a cluster of 31 odd slums including MM Pahadi 1 & 2, Sulemanagar A, B, C Blocks, Chintalmet, Bhopal Nagar, Hasanagar, Indira Nagar, NTR Nagar and Bara Imam ki Pahadi, etc.
The Center will cater to the population of about five lakh. The area has one basti dawakana in Kishan Bagh and the nearest Primary Health Center is at Rajendranagar.
The Women and Child Center will have a 'SHE team' comprising Senior General Physician and Child Specialist, Obstetrics and Gynaecology, Dental Surgeon, Dietician, Nurses, Counselors and front desk support staff.
The Center will provide basic primary care in which women and children can approach for seasonal illness and for health services like Nebulization, IV fluid replacement, wound dressings, etc.
Free third-party lab services including TIFA Scans will be provided to pregnant women from weaker sections during the ante-natal period.
All patients coming to the clinic will be assessed in a TRIAGE, which has trained counselors. They will be doing thermal screening and checking oxygen saturation levels. Later they will be entering details in an ICMR developed risk assessment form and give scores on a scale of 1-10.
A dental chair with state-of-the-art features has been installed to carry out simple to medium level procedures including root canal procedures etc in women and children.
Apart from curative aspects, the focus will be on preventive health to check for NCDs in women, Anaemia during the ante and post-natal period and malnutrition in children.
Counselors and dieticians will use the WHO recommended template to check blood pressure, height, weight, waist circumference and family history to assess the overall NCD score on a scale of 10.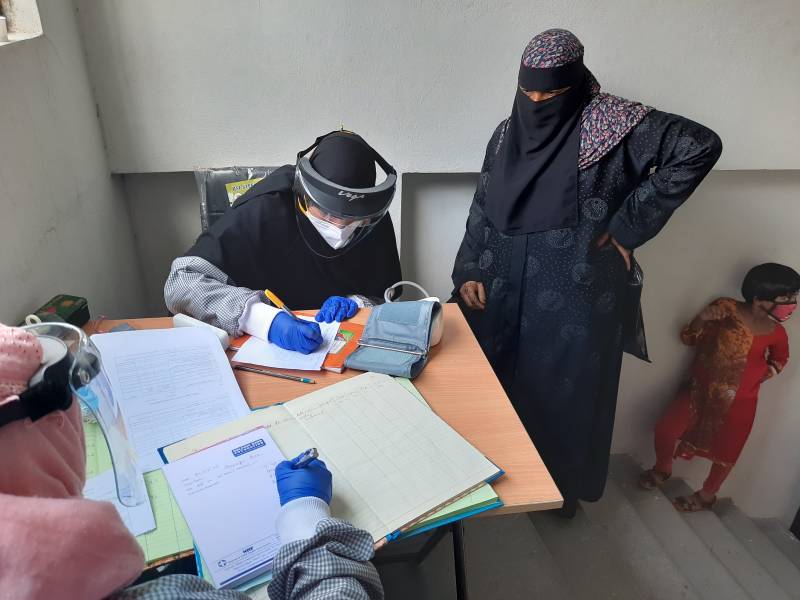 Those who score above 4 will be counseled for weight loss, diet and physical exercise along with early diagnosis and treatment of NCDs like diabetes, Hypertension, Obesity, Thyroid problems and other chronic health issues.
Similarly, children will be assessed using the WHO recommended form to determine the extent of stunting and wasting and the ones who are chronically malnourished will be provided Protein supplements and Mid-Day meal will be provided to 100 school going children under 10 years at the Masjid three times a week to fill the gap.
Children will be vaccinated in due course and if found not compliant. Iron supplements will be provided to women who will be found anemic. Nutritional supplements along with Vitamins will be provided to children found stunted.
"Most of the Women's and Child health issues are being neglected in the current pandemic plus there is no focus on preventive health which we intend to focus on through this clinic at the masjid regardless of caste and creed," said Mujtaba Hasan Askari of Helping Hand Foundation.
The Women and Child Clinic is fully COVID compliant with special cabins for doctors protected with plastic curtains, glass mounted tables to protect front desk staff, triage at the entry point, pedestal mounted sanitizers stands and large exhaust fans for a free flow of air across the entire space of the clinic located on the ground floor of the masjid and a separate waiting area for patients coming to the clinic.