Highlights
Selling kites remains a century-old passion for Iqbal's family
Hyderabad: While everyone is busy flying kites amidst Sankranti fervour, it is business as usual for the one of the oldest kite shops in the vicinity of Hussaini Alam. Located near Gulzar House, with an incredible 100 years old standing, the business is now run by Mohammed Iqbal.
Iqbal's shop, which was teeming with customers for the past few days, is noted for selling an interesting array of kites, including with a perfect blend of the traditional and ultra-modern themed kites.
"This was established by my grandfather. You could say that I am the third-generation entrepreneur. In those days, we used to get so much business that we did not keep a count of how much was the profit," says the kite-seller.
However, he is disappointed with the declining trends and the low-levels business has touched.
According to Iqbal "Business is hardly encouraging and it is mainly because 'kangoos manja' has been banned from this season, despite the robust demand. There is a threat when police see us selling it and impose hefty penalties. We feel sad when kids come specifically for kangoos manja. This has affected our business."
The shopkeeper was referring to the synthetic, nylon-plastic manja, also called Chinese manja, which was banned by the National Green Tribunal (NGT) in 2017. The thread is notorious for killing birds and is also harmful to environment. As a desi alternative, this season, kite sellers have shifted to 'solatar manja' or the cotton manja, which is considered to be a safer option.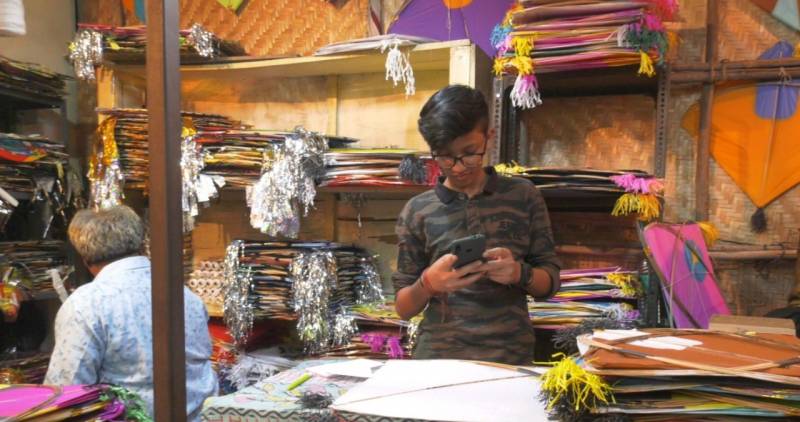 Iqbal was also worried about kids not getting many holidays for Sankranti. "Before, it used to be eight days, and now it has been reduced to two or three days. When will kids fly all these kites?" asks a worried Iqbal.
On the number of kites he makes in a day, he chuckles, "It was never just me. At least 4-5 people join in to make a kite. So, we make almost 1,000 kites a day. But if one person was making the kite alone, there would not even be 100 kites, given the time-consuming process that goes into it."
Elaborating on the kite-making process, the shopkeeper says that it is a job that requires great patience.
"We just take rest for one month, after the Sankranti season gets over. We don't even switch on the fans while working, because the paper, the basic raw material, so to say, keeps flying. It is all manual work," said Iqbal.
However, the government needs to rise to the occasion and encourage kite-sellers, he says.
"Although there are kite-festivals, the fact is that after Sankranti, none of these customers will be there. Kites are a part of our tradition, and it's important that they be in trend. There should be some economic support from the government, in terms of buying raw materials like paper at subsidised rates," adds Mohammed Iqbal.