Hyderabad: Like with every Sankranti, this time around also kite-makers will come up with kites that take-off on the newsmakers or significant events of the day.
The city's Hussaini Alam, the main center for kite businesses, sees kite-sellers compete with one another to bring on the latest trends.
This year, as anti-CAA protests surge across the country, several kite-lovers have taken it upon themselves to make a statement against CAA by flying 'anti-CAA kites'. Though most of the kites have not been printed with anti-CAA messages, kite-flyers have come up with innovative stickers saying "No CAA, NO NRC" and sticking it onto their kites.
Mohammed Ghouse, a kite-seller, is of the opinion that it is only natural that people have turned towards kites to express their frustration with the Citizenship Amendment Act (CAA).
Speaking to NewsMeter, he said, "We are always on the look-out for new trends in the city. This time, it is the people themselves who have taken up the responsibility and are decorating kites with their own creativity. We support them."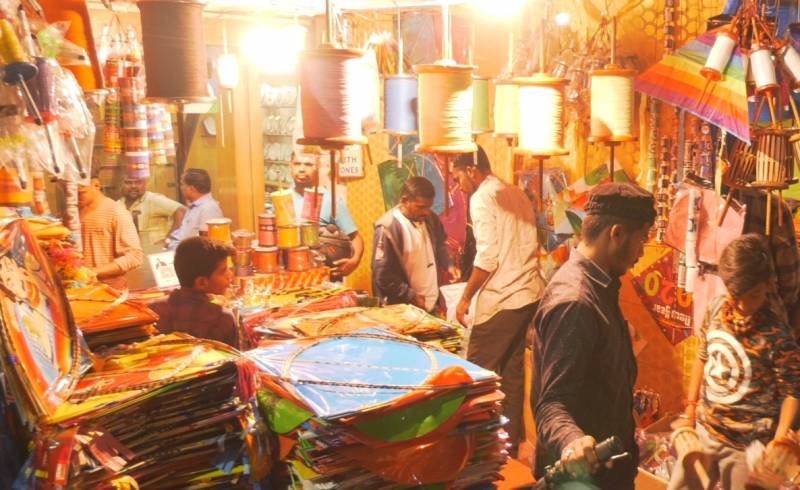 A kite-flying enthusiast, Naresh, had come all the way from Visakhapatnam, to buy eye-catching trendy kites. Although he has not heard of this 'anti-CAA' trend in kites, he says that it is good that innovative ideas are being expressed through kites.
"The kite-flying tradition is really strong in Telangana. I just hope our businesses go well this Sankranti."
While the anti-CAA sentiment is high, on the other hand, kites with pictures of Prime Minister Narendra Modi, Telangana Chief Minister KCR and even Tollywood celebrities are trending in Hyderabad. Kites hailing Modi are great favourite, points out kite-seller Bhagwandas Bajaj.
Meanwhile, in Gujarat also kites carrying messages like 'Hindu-Muslim bhai bhai', 'NRC-CAA bye-bye' have gained popularity with at least 35,000 such kites set to be flown.
And, of course, there is the popular government-run International Kite and Sweet Festival at Parade Ground in Secunderabad from January 13-15.