Highlights
Standard VIII students are guardians of Galapagos giant tortoise for one year
Hyderabad: Three teenagers from Hyderabad became guardians of the oldest Galapagos tortoise at Nehru Zoological Park, here.
Ananya, Tia and Priya from Oakridge International School on Saturday adopted the oldest inhabitant of the zoo, the Galapagos giant tortoise for a period of one year.
As part of the adoption process, they handed over Rs 30,000 to Ms N. Kshitija, curator of the zoo.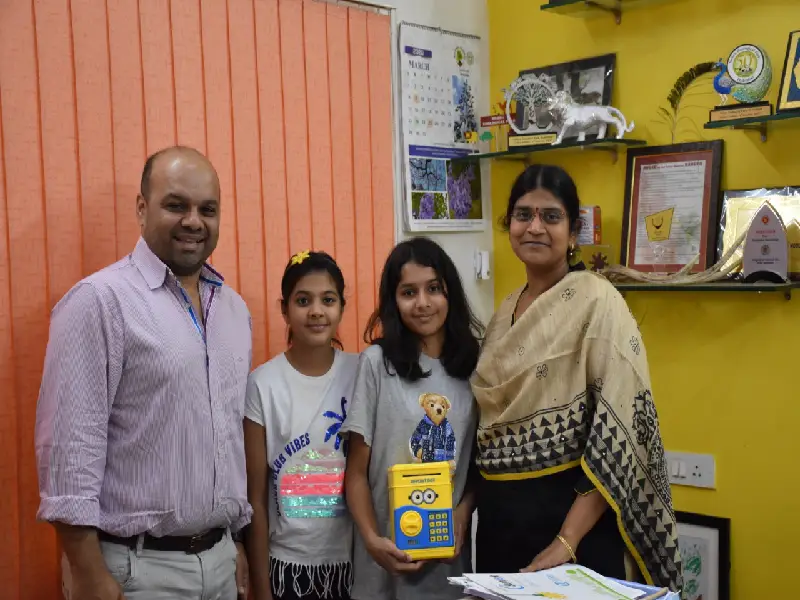 According to zoo authorities, the girls, who are studying in VIII Standard in the school at Gachibowli, raised money by selling bio-products like plants and mud pots. As they earned a good profit, they decided to adopt an animal with the surplus amount.
Ms Kshitija welcomed and greeted the teenagers for their noble endeavour and that too at such a young age. The gesture shown by the three is remarkable, she added.
After complying with the adoption formalities, the girls went to the tortoise enclosure. They expressed happiness with the maintenance and the lush green environment created for the animals. They said the ambience appeared so natural that one never feels that the animals are in captivity.
The zoo curator has invited more citizens for animal adoption. The 'Adopt an animal scheme' was launched in 2001. Now, one can adopt any animal, big or small, at the Hyderabad zoo. Such donations will be used for upgrading facilities put up for birds and animals.
Details of the Animal/Bird Adoption:
Animal / Bird adoption scheme at Nehru Zoological Park
Name of the Enclosure/Animal Annual Maintenance Half Yearly Maintenance Quarterly Maintenance
Lion and Tigers 1,00,000 50,000 25,000
Crocodiles 10,000 5,000 2,500
Nocturnal Animals (Owl, Cats, Lodes, Etc..) 10,000 5,000 2,500
Chimpanzee 50,000 25,000 12,500
Monkeys 20,000 10,000 5,000
Langoors 25000 12,500 6,250
Baboons 25,000 12,500 6,250
Jaguars or Panthers 50,000 25,000 12,500
Hyaena, Jackals, Wolves and Wild Dogs 30,000 15,000 7,500
Elephant 5,00,000 2,50,000 1,25,000
Giraffe 5,00,000 2,50,000 1,25,000
Bears 50,000 25,000 12,500
Hippo/Rhino 50,000 25,000 12,500
Birds (Pecock, Parrots, etc) 5 Nos 10,000 5,000 2,500
Others 50,000 25,000
Mode of Payments:
Cheque/DD/Online Payment(Account number: 30412140000014)
IFSC Code: SYNB0003041
From any bank in favour of Curator, Nehru Zoological Park, Hyderabad.
Contact Hyderabad Zoo:
Curator, Nehru Zoological Park
Bahadurpura, Hyderabad: 500064
040-24477355, Email I'd: [email protected]
Benefits of Animal/Bird Adoption Scheme:
I.T exemption under Section 80 G (2) & (5) of IT Act 1961.
Preferential allotment for guest-house reservation.
In case, students of a school adopt an animal, 100 Under-12 students from the school will be allowed entry free of charge along with (10) staff members in a year.
Your company logo and your name will be displayed near the enclosure of the animal/bird you adopted.
You will be allowed to view the animal/bird you have adopted from close quarters.