ADILABAD: Unmindful of dangers, a tigress is moving in the farthest corner of Telangana looking for a suitable forest area to mark its territory. The tigress crossed into Telangana from Maharashtra's Tipeshwar Wildlife Sanctuary (TWS) in search of suitable habitat.
A 'suitable' habitat can only be found in the pristine forest in Kawal Tiger Reserve (KTR) located about 100 km away and spread over the former Adilabad district.
The 30 km area connecting Hathighat, Pippalkuti, Tamsi (K) and Arli villages where the tigress is moving at present is in Bheempur Mandal of Adilabad district. It is one of the identified big cat corridors connecting the neighboring Tipeshwar Wildlife Sanctuary (TWS) and the KTR.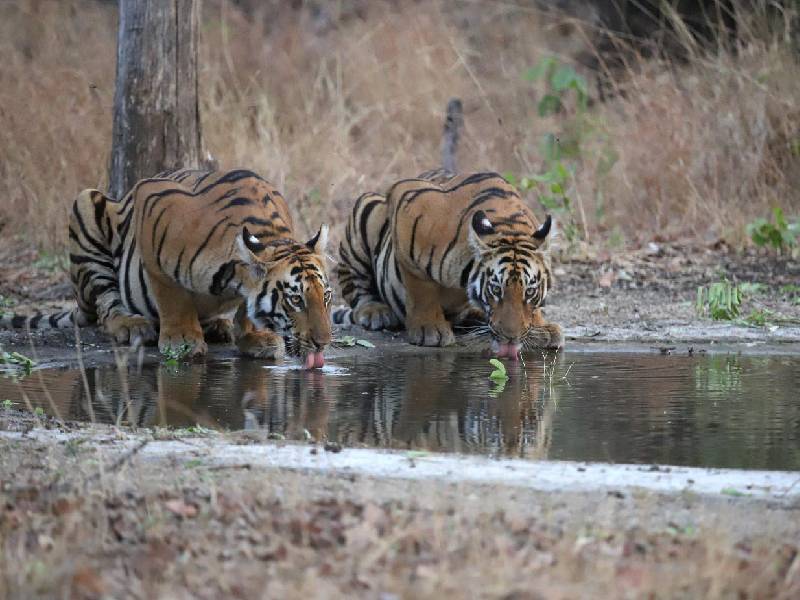 The 'i'mark tigress (left) in the TWS
Tigers from TWS have been crossing the Penganga River for the last five years owing to the safety of their cubs.
The TWS, located about 35 km away from Adilabad town on the NH 44 in the Yavatmal district of Maharashtra, is home to an estimated 15 tigers including cubs and sub-adults. Some of them migrate in search of their territory. As the area of TWS is just 143 sq km, the number of tigers inhabiting the area makes it look overcrowded.
Wildlife photographers Saurabh Agarwal and Ajinder Singh have identified the tigress as the 'i'. "It had come to this side of the border first in February and later in August," they said.
"The big cat 'I' has killed a calf two days back. That the same animal has crossed over into our territory twice shows that this is a tiger corridor," said Adilabad Forest Divisional Officer (FDO) V. Chandra Shekhara Rao said.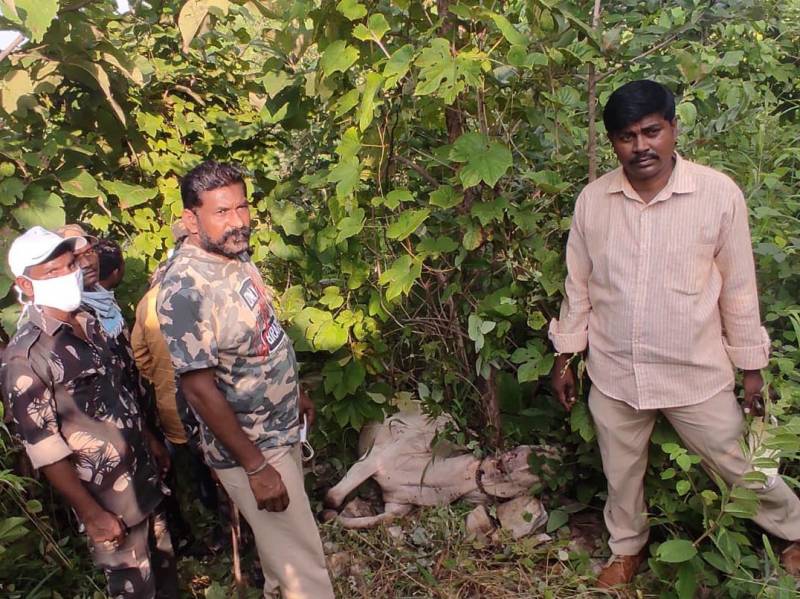 Forest officials inspecting a cattle kill near Hathighat
He said there is another corridor further towards the north as tigers are known to have crossed the Penganga near Karanji. It joins the other corridor about 10 km towards the south near the Tamsi Mandal headquarter.
In April last year, the National Tiger Conservation Agency (NTCA) had organized the first Tiger Landscape Level Coordination meeting of forest officials from Maharashtra and Telangana aiming to improve coordination between the two departments.
The NTCA had decided to fund conservation activities in tiger landscapes, the most important part of which are corridors.
The corridors linking TWS and KTR Tadoba Andhari Tiger Reserve in Chandrapur district in Maharashtra are considered as the KTR landscape. "The tigers coming to this side of the border are safe. We are paying compensation for cattle kills in quick time," said A. Geeraiah, Deputy Forest Range Officer looking after the monitoring work.