Hyderabad: 7:30 am: Around 49 tourists started their one-day expedition to Papikondalu on Sunday. The group reaches Gandipochamma temple via road.

9:00 am: After darshan at Gandipochamma the group entered the Sri Royal Vashishta, a boat arranged by KVR Tours and Travels for the one-day expedition. They are joined by 11 staff of the travel agency including two drivers, Nooka Raju, and Tama Raju. With 60 passengers, the Sri Royal Vashishta sails towards Papikondalu which is located in the Godavari.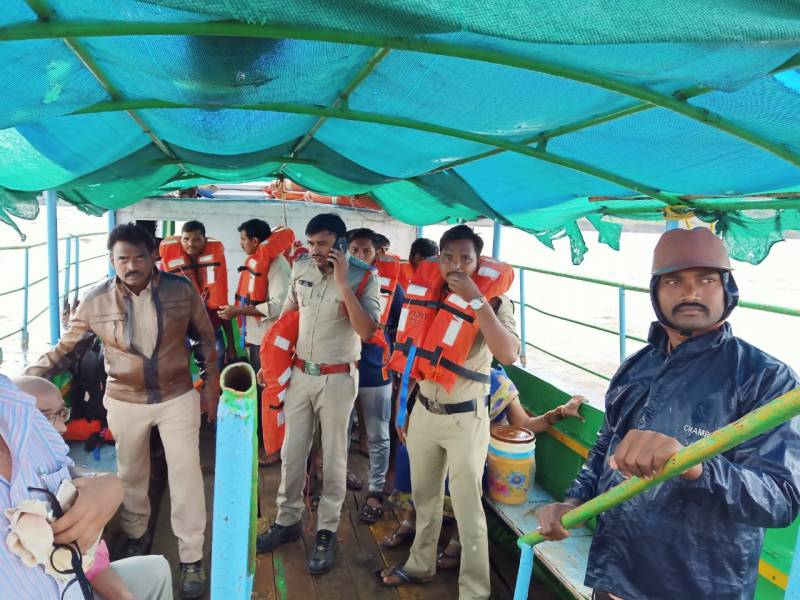 10:30 am: Royal Vashishta crossed Devipatnam

1:00 pm: Its lunchtime and about an hour left to reach Papikondalu. Due to the heat, a few passengers remove their lifejackets.

1:45 pm: Tragedy strikes. Royal Vashishta has reached near Kacchuluru village in Devipatnam Mandal of the East Godavari district when the boat started tilting to one side. Many tourists begin jumping into the river. A few tried to reach the top of the boat that was still for some time. Minutes later, the ill-fated boat overturns completely with all passengers.

The first 15 passengers were rescued by villagers from Thuthuguda.
Learning about the incident, Chief Minister Jagan Mohan Reddy orders the concerned officials to carry out the rescue operations on a war-footing.

National Disaster Response Force with 30 personnel and State Disaster Response Force with 40 personnel rush to the spot.
Eight bodies, including that of drivers Nooka Raju and Tama Raju, were recovered.

The government dispatches a Naval Dornier and two choppers to join the search operations.
Leaders across the nation take to Twitter, expressing their grief and shock over the boat capsizing.
Extremely pained by the capsizing of a boat in Andhra Pradesh's East Godavari. My thoughts are with the bereaved families. Rescue operations are currently underway at the site of the tragedy.

— Narendra Modi (@narendramodi) September 15, 2019
Reacting to the accident, Prime Minister Modi tweeted: "Extremely pained by the capsizing of a boat in Andhra Pradesh's East Godavari. My thoughts are with the bereaved families. Rescue operations are currently underway at the site of the tragedy."