With the aim to avoid wastage of excess food in the city, the Greater Hyderabad Municipal Corporation (GHMC) has launched a mobile app 'Feed The Need' on Thursday.
The app allows user to register as a food donor and offers an option of collect and drop off at the nearest fridge. The fridges which are at 30 locations as of now are on a GIS platform, allowing ease in locating them. It has a facility to collect excess food from hotels, homes, functions and online food suppliers.
Currently, the fridges strategically located within the GHMC limits enable the stocking of the excess food. The corporation has collaborated with various NGOs to ensure that the excess food reaches the needy.
GHMC commissioner M. Dana Kishore said, "Feed The Need' app is the need of the hour. While a section of the population is struggling for food, 25 per cent to 30 per cent of food is being wasted. Feed The Need program brings together the needy as well as those who have surplus food. This is definitely one of GHMC's flagship programs and will go a long way in contributing to the reduction of food waste as also increasing societal involvement", he added.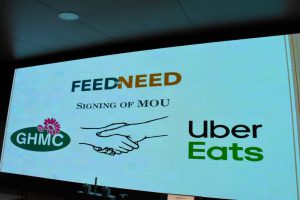 The NGO partners receive an SMS alert and arrange for the food to be picked up. Simultaneously the NGO will also have (has the requisitions from various institutions having a need for the food). The operations will be monitored online to ensure easy collection and distribution.
UberEats will also support the initiated and will deposit food from cancelled orders from their app to the nearest collection zone.
According to the GHMC, approximately 25 to 30 per cent of food within the GHMC limits is wasted. Excess food is either informally disposed or collected by the GHMC vehicles under the bulk garbage collection initiative.
After realising the importance of conserving excess food and in line with the sustainable development goals of the United Nations for a hunger free world, GHMC decided to develop the initiative - Feed The Need App.
Mr Raja Ashutosh Kumar Buddiraju an alumnus from IIT Kanpur has developed the app. Mr Raja is also the founder of the startup Rathh.
City mayor Bonthu Rammohan has asked corporate institutions to join hands in 'Feed The Need' program and help in establishing additional fridges to cover the entire GHMC area.
Hari Chandana, additional commissioner CSR said that there is a need for civil society and corporate entities to join hands with the GHMC in order to usher in new and innovative approaches in managing urban food waste. She also requested other institutions within the GHMC area to join hands with the initiative.