Hyderabad: Things have escalated at quite an unexpected rate for the members of the Movie Artistes Association. After the public spat between actors Megastar Chiranjeevi and Dr Rajasekhar at a press meet held at a five star hotel in Hyderabad on Thursday morning, the latter has now tendered his resignation from his position as the Executive Vice President of MAA, the role he has held since elections in March 2019.
In a letter that was emotionally charged, Rajasekhar penned down his reasons for making the decision to step down from his post. "I decided to resign from my post as Executive Vice President today, because I am sincerely not liking the way Mr. Naresh is behaving and handling things. Hope my emotions are rightly understood," he wrote at the end of the one-page long letter.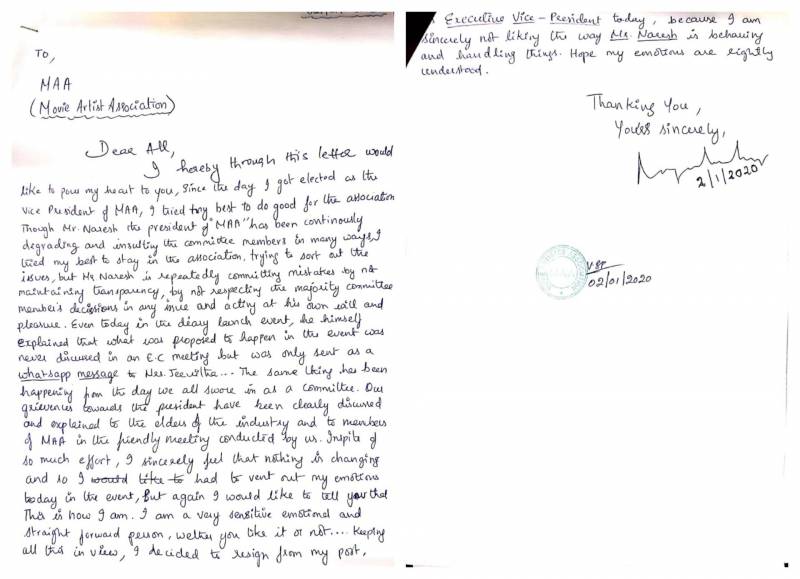 Rajasekhar stated in his letter that President Naresh wasn't "maintaining transparency", and was "not respecting the majority committee member's decisions in any issue and acting at his own will and pleasure".
The actor justified his outburst saying that he is a "very sensitive, emotional and straightforward person". "Our grievances towards the president have been clearly discussed and explained to the elders of the industry and to members of MAA in the friendly meeting conducted by us. In spite of so much effort, I sincerely feel nothing is changing, and so I had to vent out my emotions today in the event," he wrote in the letter addressing the reason behind his emotional charge at the meeting.
MAA is yet to decide on his resignation. By the time we filed this report, they hadn't accepted the resignation.
Rajasekhar's wife Jeevitha has already tendered an apology on his behalf to Chiranjeevi and other senior members of the industry who were present at the meeting where the entire ruckus happened. This was the probably the first time after his political sojourn that we saw Megastar Chiranjeevi lose his cool in the public space.