Hyderabad: Donations to the Telangana Rashtra Samithi surged to Rs 182 crore in the financial year 2018 as against a mere Rs 3 crore in the previous fiscal, shows the party's audit report for 18-19. The 60-fold rise in donations came ahead of the Lok Sabha and Assembly polls in Telangana.
Of its earnings in the last financial year, the party spent Rs 29.73 crore, most of it on election purposes. The party's poll expenses rose from Rs 29 lakh in 2018 to Rs 27 crore in 2019, according to the audit report. The governing party in Telangana spent Rs 5.93 lakh per employee in 2019, while its administrative and general cost stood at Rs 2 lakh.
Revenue from other sources went up nearly five times to Rs 4.9 crore in FY19 from one crore in the previous fiscal. The report says TRS' total income in 2019 was Rs 188.71 crore compared to Rs 27.27 crore in 2018.
Meanwhile, the subscription income from the party's grassroots-level workers fell to Rs 1.1 crore from Rs 22.9 crore during the financial year 2017-18. During FY18, the party had given targets to its leaders to enrol new members, a general trend ahead of elections. This apart, various membership drives were also held, increasing the numbers exponentially. TRS members have to pay an annual subscription fee fixed by the party.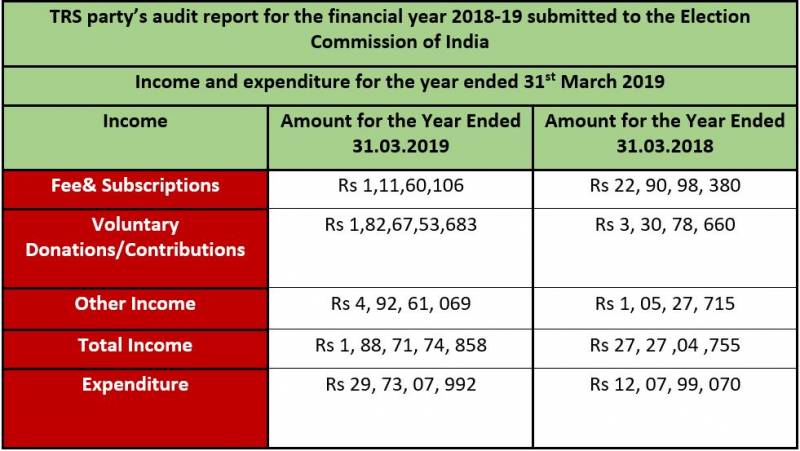 Prof Jagdeep S Chhokar, a co-founder of the Association for Democratic Reforms, told NewsMeter, "The income declaration given by political parties are not very reliable. The wild variations they indicate in audit reports can only be explained by knowing who those donors are and why they made the donation. However, parties are never willing to reveal who these donors are."
Prof Chhokar said there's brazen disregard for a 2013 ruling by the Central Information Commission that says all political parties fall within the ambit of the Right to Information Act.
"Even though the Supreme Court insists the Centre and Election Commission to bring all political parties under the RTI Act, none of them comply to that. This would have helped to make them transparent and accountable to the public. Similarly, it is mandatory for parties to submit the PAN card details of all their donors. However, significant disparities can be observed in these data. The PAN card details will mostly be undeclared, incomplete or incorrect," he added.
As per the audit report, TRS had liabilities of Rs 97 lakh as on March 2019.