Hyderabad: A day after Ministry of Home Affairs announced that stranded migrant workers will be permitted to travel, Ramulu managed to secure a pass from Telangana police, hired a Tufan to take his 8-month pregnant wife, home. The couple, along with friends, crossed the T-border through Nalgonda district but were stopped at the entrance of Andhra Pradesh, only to hear that their passes are invalid.
"Our vehicle was stopped at the TS-AP border, the inspector of police is insisting that we return to Hyderabad and take the bus arranged by the AP government. My wife is a pregnant and our vehicle has been halted for 4 hours now," said Ramulu.
This is not a stand alone case, between May 3-4, close to 7,000 travellers, mostly migrant workers, were turned down by the AP police. Scores were found stalled at junctions like Kodad-Vijayawada, Nagarjuna Sagar, AP-TS border in Nalgonda district.
Rajani, who lives in Kukatpally, Hyderabad, is close to her second delivery. She has been permitted to travel to AP. She, however, is waiting for clearance from the AP government. She cries, "How can I handle my delivery with 3-year-old baby without my husband's support? I need permission to travel to Vijayawada to be with my family. I have to travel I will be 9 months soon. "
Meanwhile, people stranded in AP are also waiting for clearance from the government. Another traveller, Anjan said, "I have applied for a pass to travel from Vijayawada to Chennai (application no 51880). The pass has been approved by Tamil Nadu government but clearance is pending from AP police."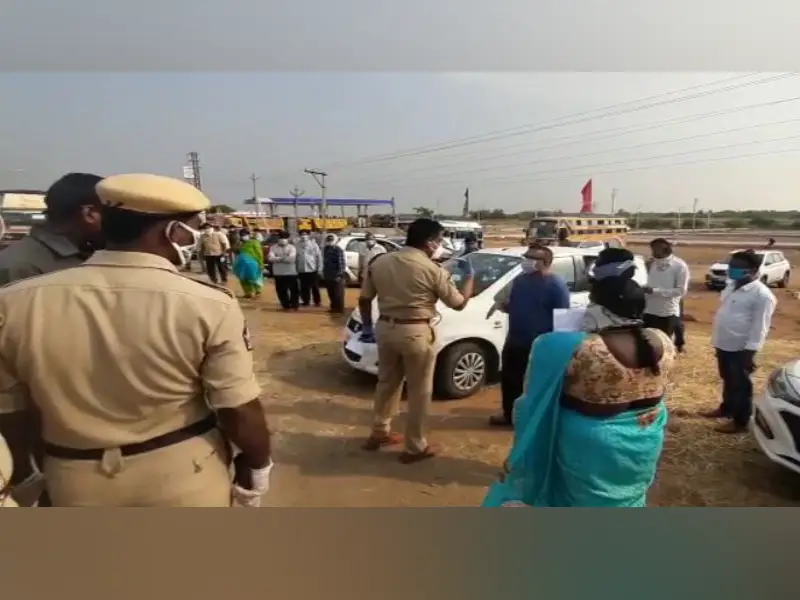 A senior police officer in Telangana Police (who does not want to be identified) told NewsMeter, "The state police has given nod to workers to arrange their own travel to return home, duly by issuing passes. A large chunk of workers, on bikes and cars, left to AP but the officials there are not honouring TS passes. Scores were asked to return and come to AP only in vehicles arranged by the AP government."
The officer further added, " The neighbour government could have opened a quarantine centre or conducted thermal checks but it did not do so and just sent the workers. The passes issued by the Telangana government are invalid in AP."
So far, the Telangana police has issued 13799 travel passes out of the, 23785 applied.
A response from the Andhra Pradesh police is awaited.