Hyderabad: One might wonder what a movie star will have to do with non-violence and world peace. However, Gaganam-actress Poonam Kaur seems to be treading the Gandhian way, of late. While the whole world remembered Mahatma Gandhi on his 150th birthday anniversary on October 2, Poonam celebrated the special day at the United Nations headquarters in New York. She gifted a portrait of Gandhi to India's Permanent Representative at the UN, Syed Akbaruddin. She also greeted Ambassador Sandeep Chakraborty at the Consulate General of India and Nagaraj Naidu, Deputy Permanent Representative at India's Mission to the UN.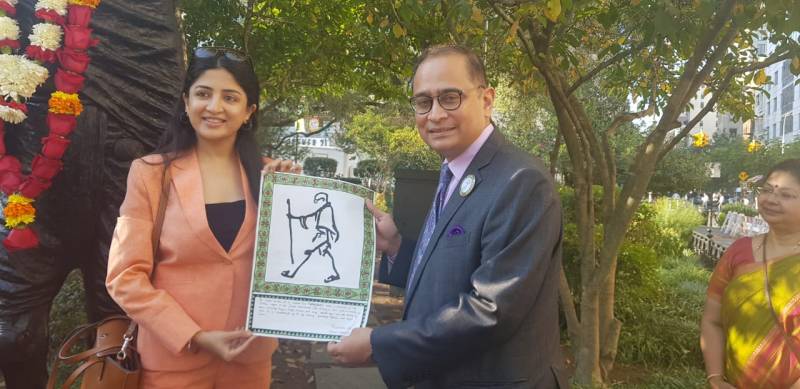 "The artwork is styled with Worli, Kalamkari and Madhubani methods. I am so delighted to have shared some ideas and moments with respected dignitaries. Special thanks to Syed Akbaruddin for taking time to interact with me and hearing my observations regarding peace. I strongly feel that every individual on the plant must inculcate peace in their daily life," said Poonam in a statement.
She added that the first painting reached Prime Minister Narendra Modi through higher authorities. "I believe that Gandhiji's journey of peace got us our freedom and his principles have made him a life-long phenomenon for us to follow. This is my journey to arrive at peace, and I hope all of us find it too."
Poonam mentioned that she does social activities keeping the well-being of people in her mind. She hopes her message of peace, love and humanity reaches everyone.