Vizianagaram: Traffic has come to a grinding halt after a truck got stuck in a big pothole on Parvathipuram- Odisha- Chattisgarh inter-state road near Gumada village in Vizianagaram district on Sunday night.
For the last many hours, police and locals are making efforts to tow away the truck but to no avail. Due to the heavy rains on Saturday, the potholes overflowed and submerged the road.
While cruising through the road, the driver lost control, and the truck got stuck in a big pothole.
The roads in Parvathipuram and Kuneru areas in Vizianagaram have been filled with rainwater and the potholes have turned into death traps.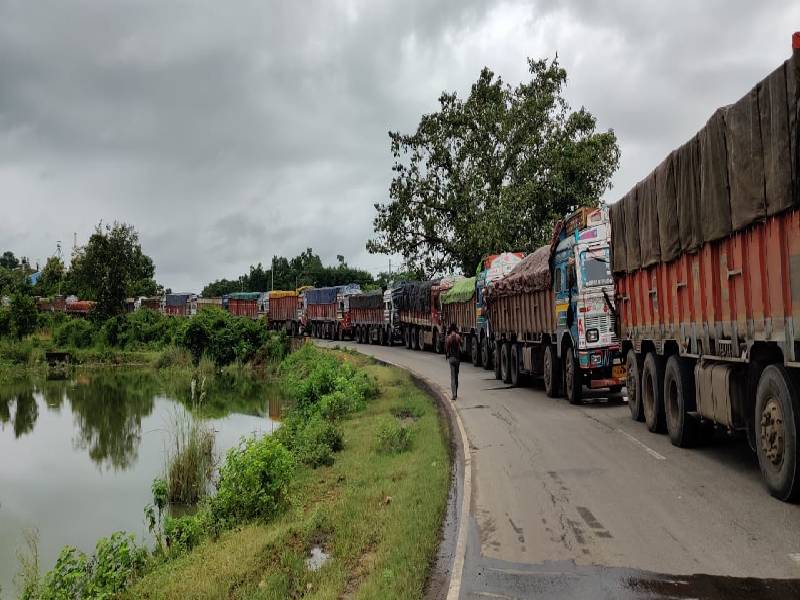 Motorists said they experience extremely bumpy rides on the 8-10 km stretch of the Parvathipuram road that leads to Odisha. This stretch covers Sivini, Vikrampuram, Gangarevuvalasa, Komarada, and Gumada areas, said K Samba Murthy of CPM.
Five to six incidents of vehicles getting stuck in the potholes are reported every day.It may be recalled that locals in Vizianagaram staged an innovative protest by posing as if they were swimming in the potholes filled with water in a bid to express their frustration and attract the attention of authorities to repair the road.
Naga Raju, a native of Vizianagaram district said the stretch between Gajapathinagaram and Parvathipuram and Parvathipuram and Odisha are full of potholes.
Ministers Botsa Satyanarayana and Pamula Pushpa Sreevani ignored the pleas of motorists and no action has been taken to repair the damaged roads.