Jangaon: It is not uncommon for us to find statues of political leaders looking over junctions or parks in the country. Ardent fans would put up a photo of their leader in their homes or offices as a show of respect. There are instances of people building temples for their revered leaders. Beating all these, there is one man from Konne village of Bachannapet Mandal in Jangaon district who has turned his home into a temple. And the prayers in this temple are offered to none other than US President Donald Trump. This devotee, Bussa Krishna, is also known as 'Trump Krishna' by friends and villagers.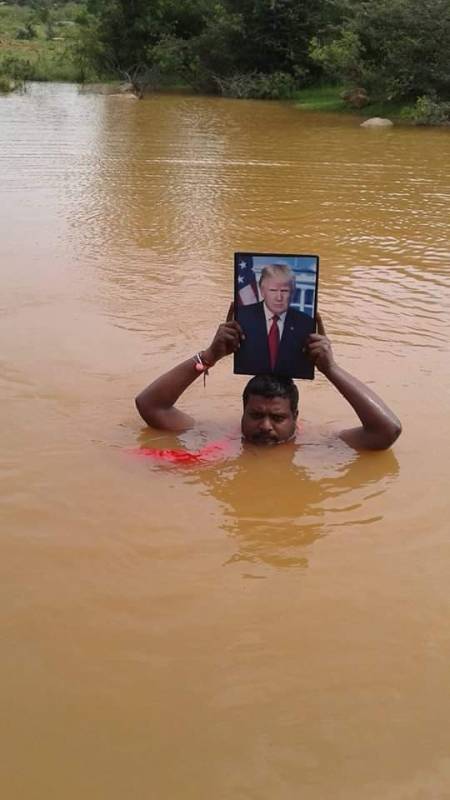 Such is the devotion of the 33-year-old real estate broker towards Mr Trump that he has built a six-foot-tall statue of the President in his home and offers prayers every day, including abhishekams. He carries a photo of Mr Trump to all the shrines in the country and even takes it for holy baths in rivers and waterfalls. He fasts on Fridays for Mr Trump's long life. Before commencing any work, he prays to the photo of Mr Trump. His home is called Trump House.
As Mr Trump is scheduled to make his maiden visit to India on 24 February, Krishna is enthusiastic to meet his 'god' in person. He has requested the government to make his wish come true.
Krishna's devotion towards Mr Trump began four years ago when he saw the President in his dreams. "I became his fan after listening to his views and his outspoken nature. In fact, I started getting more satisfaction praying to him than any other god. Hence, I decided to be devoted to him. I would like to meet him once in my lifetime. I request the Indian government to fulfill my dream," Krishna said. Though some of his family members oppose Krishna' s beliefs, he enjoys the support of his friends and villagers who are also waiting to see Krishna meet Mr Trump.