Hyderabad: Telangana, on Tuesday, crossed the death toll of 900 while the number of COVID positive cases is inching towards 1.5 lakh. As of today, based on the official bulletin released by the Government of Telangana, the number of cases stands at 1,45,163.
Statistics curated by economist Dr Rijo M. John, a health economist show that Telangana is performing better when compared to other states. Telangana is conducting around 1,500 tests per million population as compared to the country's average which is 773 tests per million population per day. The total number of samples tested per million population is around 49,234 in Telangana.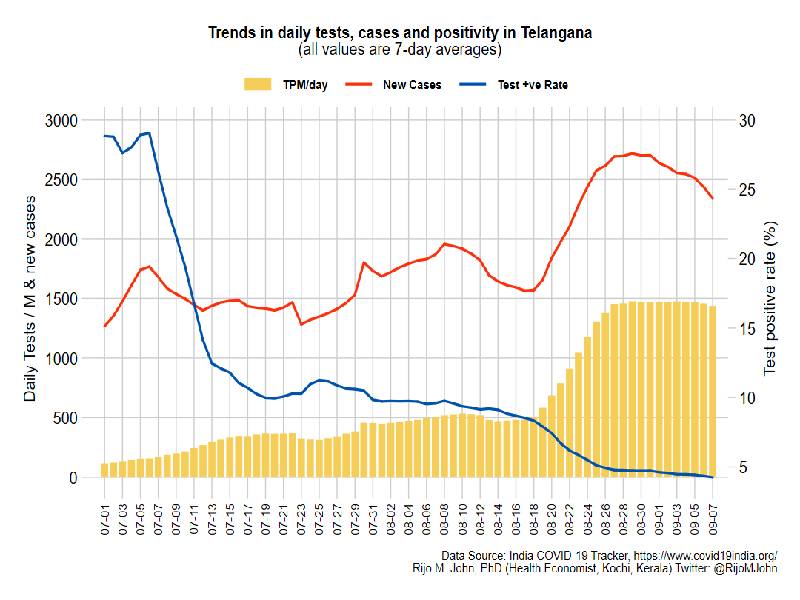 Dr John curated the data based on cases reported nationally on September 7. As per the graph, the test positivity rate in Telangana is 4.5 per cent as compared to that of the country which is around 8.3 per cent.
In the state, the cases are growing at a speed of 1.9 per cent, which is less than that of the country's at 2.1 per cent.
In the bulletin, it was stated that 69 per cent of the patients are asymptomatic while only 31 per cent of the patients are symptomatic.
The health economist added that "The state has made a big turnaround on Covid-19 and is now better than Indian average on many parameters (at least on papers)."
He also said that the state was still not providing the break up of test types. In the state, other news organisations are now questioning the data provided in the bulletin by the health department.
Since the starting of the full break up of the data, the percentage of death due to Covid-19 is 46.13 while the percentage of deaths due to co-morbidities is 53.87 per cent which has not changed since July 27.
The Telangana High Court, on September 4, said that the data of deaths in the state is "unbelievable".