Hyderabad: Alarm bells have started ringing for the Telangana government after a new data revealed that the unemployment rate in the state has increased four-fold in April and May this year.
According to the Centre for Monitoring Indian Economy (CMIE), the rate of unemployment has increased from 6.2 percent to 34.8 percent in May. There was a slight increase in the unemployment rate in April after the COVID-19 lockdown was announced on March 24.
It is pertinent to note that Telangana's unemployment rate is higher than the national average of 21.3 percent, as of June 8. While the nation-wide urban unemployment rate is 22.4 percent, it is 20.8 percent for rural areas.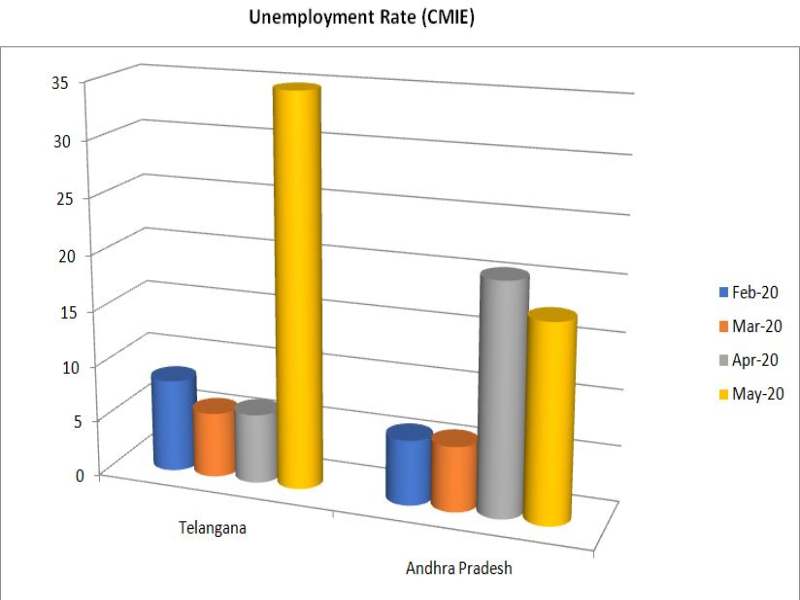 Mythri Priya, District Employment Officer, Hyderabad, said the numbers have risen because many companies have adopted 'no work, no pay' policy during COVID-19 lockdown. "Though the state government had issued guidelines asking companies not to lay-off employees, many people have become jobless post-COVID-19 lockdown," Priya said.
The employment officer noted that the number of job applications has come down during the lockdown. "Before lockdown, we used to receive around 60-70 applications per day. This number has dropped to 20-30 applications during the lockdown. Now, the number of applications has started picking up because some companies have begun recruitment and asked for candidate details, etc," Priya said.
Directorate of Employment and Training Telangana is planning to resume job melas to help distressed citizens in finding suitable employment. "We are hopeful that we will be able to conduct a job fair in Hyderabad by the end of June or July first week," she added.
Andhra's unemployment rate shows a slight reduction
In the case of Andhra Pradesh, the unemployment rate has slightly decreased in May. While the state recorded 20.5 percent unemployment in April, the number dipped to 17.5 percent in May.
"The agriculture and allied sectors, which contribute to around 35 percent of Andhra's GDP, have kicked off in May with activities like rabi harvesting, aquaculture, and horticulture gaining pace. This could explain the reduction in the unemployment rate in Andhra," said P.V Ramesh, Additional Chief Secretary to Andhra Pradesh chief minister.
He further noted that Telangana's dependence on industrial and service sectors, especially in Hyderabad, could have contributed to its high unemployment rates.
Earlier in April, the CMIE stated that around 30 percent of job losses were reported in the country, which translates to a loss of 12.2 crore jobs.
"The laborers and SMEs have lost jobs to the tune of about 91.3 million followed by entrepreneurs (job loss of 18.2 million) and salaried class (job loss of 17.8 million). Job creation has only happened in the farm sector during the lockdown period. Nearly 5.8 million jobs were created in farm sector," CMIE said.
CMIE's monthly unemployment rate involves a sample size of 43,600 households, both urban and rural, spread across the country.