Hyderabad: In a case of quick justice, a Warangal court on Thursday convicted the rapist who had sexually assaulted a nine-month-old girl 48 days ago. The First Additional District Court in Warangal district gave the verdict to hang the rapist till death. The convict, identified as Kolipaka Praveen had raped and murdered a nine-month-old infant in Tailor Street in Hanamkonda in Warangal Urban district on June 19, 2019.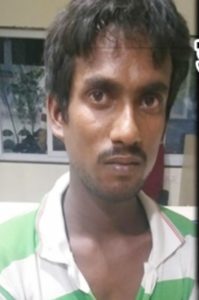 The additional district court judge of the Fast Track Court K. Jaya Kumar gave the verdict. This is one of the quickest judgments in a rape case in the country, after 400 fast track courts were set up in the country to try the rape cases.
Within 15 days of the incident the Warangal police filed a chargesheet and the trial was completed within a month. The court has imposed the punishment of death sentence and it is subject to confirmation by the High Court and the right to appeal.
A. Prasad former vice president of the Warangal Bar Association said, "Around 31 witnesses were cross examined. All the sections under which the accused was booked were proven by the prosecution in court. This is a historic judgment as it has been given within 48 days," he added, "This is one of the quickest judgments in the country. There are around 1,600 advocates in Warangal and none of them took up the vakalath on behalf of the rapist."
The rapist Praveen is in judicial remand.
It may be recalled that the accused had abducted the toddler who was sleeping along with her parents on the terrace of their residence. Praveen had taken the toddler to an isolated location and after sexually assaulting her had killed her. The parents of the toddler who awoke at about 2.30 am found the toddler missing.
A case was registered then under Sections 366, 302, 376(a), 376(ab), 379 and section 5(m) of the Indian Penal Code, read with Section 6 of the Protection of Children from Sexual Offences Act.
The issue had rocked the state of Telangana and huge protests were taken out in Hanamkonda, Hyderabad and other cities of the state demanding justice. Public had then demanded that the accused be shot dead. Police arrested him and put the case on fast trial.