Hyderabad: The 65-year-old man from Allipuram, Vizag, who was tested positive for the novel coronavirus on March 20, had travelled by Kacheguda- Visakhapatnam Express on March 10, according to sources.
The 65-year-old man was the third COVID-19 positive case in Andhra Pradesh.
The patient had travelled to Mecca-Madina, in Saudi Arabia on February 26, and had stayed there till March 9. On March 10, the patient returned to Hyderabad. He landed at Rajiv Gandhi International Airport (RGIA) Hyderabad at 7 am on March 10. He later left to his daughter's place in Mehdipatnam.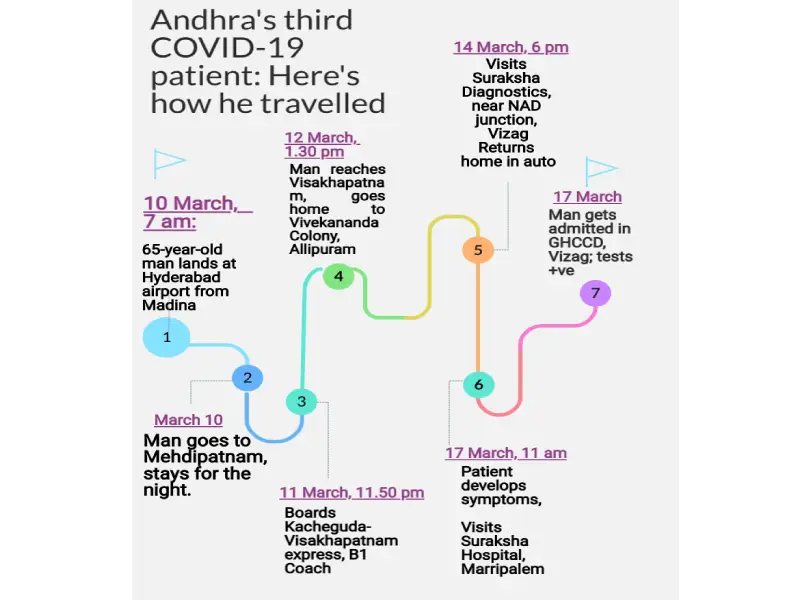 At 11.50 pm on March 11, he boarded Kacheguda-Visakhapatnam Express that was scheduled to reach Visakhapatnam at 1.30 pm. The man had occupied seat no. 58, in the B1 coach of the train.
The 65-year-old man reached Vizag at around 1.30 pm. On March 12 he headed home at Vivekananda colony in Allipuram.
Two days later, the patient was taken for a check-up at Suraksha Diagnostics in NAD junction. Later he came back home.
According to doctors, the patient began to develop symptoms of COVID-19 on March 17, exactly a week after his arrival to Hyderabad. He was initially taken to Suraksha Hospital in Marripalem at around 11 am. Later he was referred to Government Hospital for Chest and Communicable Diseases (GHCCD) in Visakhapatnam.
"We had sent his samples to Virology Laboratory of SVIMS at Tirupati. His tests have come back positive," said S Tirupati Rao, District Medical and Health Officer (DMHO), Visakhapatnam.
His condition is stated to be stable as of now.
Officials of the Medical and Health Department and Vizag district administration are on a lookout for people who came in contact with the infected person. The officials also launched a sanitation drive at few places at the Allipuram area in Vizag on Friday.
Andhra had reported its first confirmed case of coronavirus on March 12. A student, who had returned from Italy to Nellore tested positive for coronavirus. Later on March 19, a 24-year-old youngster, who returned to Ongole from England, had tested positive. With the 65-year-old man, the total number of corona-positive cases in Andhra has risen to three.
Till March 20, the total number of COVID 2019 positive cases across India has reached 171. Maharashtra has witnessed the highest number of 47 COVID-19 cases, followed by Kerala with 28 cases.