Vizag Millennium Towers to house AP Secretariat, ₹19.73 cr released for construction of B-wing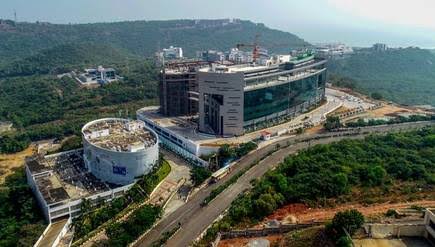 Visakhapatnam: One of the best beach-facing locations with a 360 degree view of Visakhapatnam city, the Millennium Towers, is apparently going to house the Andhra Pradesh Secretariat and CMO office. The tower is located on the peak of Rushikonda IT Hill-3.
On Monday, the Department of Information Technology, Electronics and Communications (IT E&C) released ₹19.73 crore towards construction of the B-wing of the Towers at IT SEZ Madhurawada here. The five-floor A wing of the Millennium Towers is ready and the space was allocated to an ITES company, Conduent, last year.
During the TDP regime, Tower-A was built in an area of four acres with an investment of ₹145 crore. It has a built-up space of two lakh sft and 1.5 lakh sft for parking. The Sunrise Tower, next to the Millennium Tower, also has enough space. The building was constructed to provide plug and play offices for start-ups. However, there has hardly been any activity after the YSRCP government came into power. According to security guards at the Tower, a couple of teams, comprising top bureaucrats, have already made several visits to the Millennium Towers.
According to an earlier plan of Andhra Pradesh Industrial Infrastructure Corporation (APIIC), the B-wing of the Towers required funds worth ₹45 crore. The special feature of the tower is that it can resist high-intensity earthquakes.
If the Secretariat and heads of department offices are moved to the Millenium Towers, nearly 15,000 employees, including 5,000 secretariat staff, are likely to move to the city. There are as many as 20,000 flats and villas ready for occupation in the city, according to Real Estate Developers' of India (CREDAI) president B. Srinivasa Rao. He said flats and villas of plinth area 3,000 square feet, 2,000 sq ft and 1,000 sq ft are available. He said there will be absolutely no problem in finding suitable accommodation for the staff.