Hyderabad: If you think you need a telescope or other advanced equipment to see Saturn or Jupiter in the sky, you are mistaken. Just step outside, face the west and look up. You will find Jupiter, the shining object below the moon, in the sky tonight.
The planet will be visible in the sky on November 1 for up to two hours after sunset. If you position yourself on the terrace or veranda of a tall building, the planet will be easily seen with the naked eye.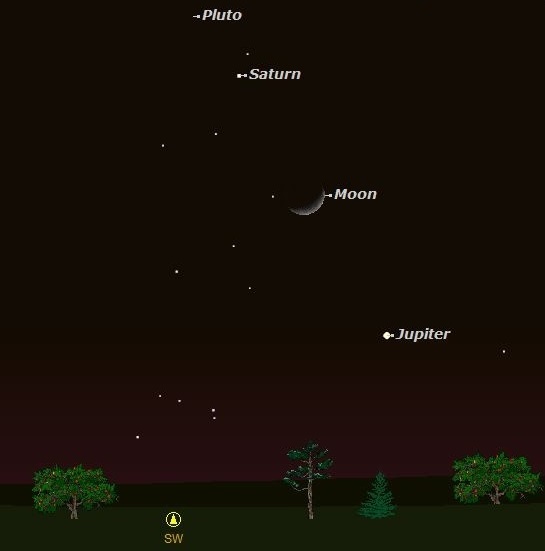 N Raghunandan Kumar, Founder and Secretary of Planetary Association, says there is a general notion among people that celestial objects can never be viewed without a telescope. "It is possible to view planets without telescopes. The only thing you need to keep in mind is to look out for the shining, non-blinking objects in the sky. Tonight, we can see Jupiter near the moon. Tomorrow, even Saturn can be seen with the naked eye," he said.
The past few months have been disappointing for sky-gazers owing to monsoon and the absence of clear skies. Now that clouds have begun to recede, astronomy enthusiasts are all set for an exciting sky-gazing session tonight.
Why are the planets suddenly visible to us? Called conjunction, this astronomical phenomenon is a natural event, wherein planets, which are not close to one another in space, can be seen by the naked eye in proximity. "This is a normal celestial event, which happens every month but cannot be seen that often. The speciality of conjunction is that planets are far away from us. However, because of their geometrical position in the sky, it will appear as if Jupiter is beside the moon. So for a common man, this phenomenon helps to spot planets on their own easily," says Raghunandan.
I got it like this from #Bangalore #Moon and #Jupiter pic.twitter.com/3G5A5aKjjT

— S.HARI GAURAV (@HariGaurav) November 2, 2019
In case anybody is missing this sighting tonight, you may view this tomorrow as well, but at the risk of increasing distance between the moon and the planets, which might hamper the view. "Any building which gives a good view of the western horizon is perfect for sky gazing tonight. It might be a bit difficult what with all the skyscrapers and light pollution, but they can be viewed all the same," he added.