Hyderabad, August 16th: The historical Mozzamjahi Market, which still adorns the fresh flowers from its inauguration two days ago, on Sunday saw a surge of water leaking through its walls.
MJ Market was re-opened for the public on August 15th, after two years of all-round renovation works by the Government of Telangana. The Ministry of Municipal Administration and Urban Development declared plans for restoration in 2018 and inaugurated a re-worked monument on August 14th.
However, continuous rains in the region weakened the structure to an extent where the inner walls of the market were drenched with water.
The Greater Hyderabad Municipal Corporation had arranged for a photo-exhibition of the repair works in a four-walled corridor of the market, which was the first one to split open for rainwater. Pictures of rainwater collecting inside the exhibition premises soon went viral.
The government has stated that repair-works of the market cost close to Rs 15 crore.
Arvind Kumar, Chief Secretary MA&UD and head of the renovation project, reasoned that the there have been continuous rains for the last few days. He also said that curing of the parts is still not 100 per cent.
Upon a visit to the market, Newsmeter corrospondent also saw that repair works were still going on.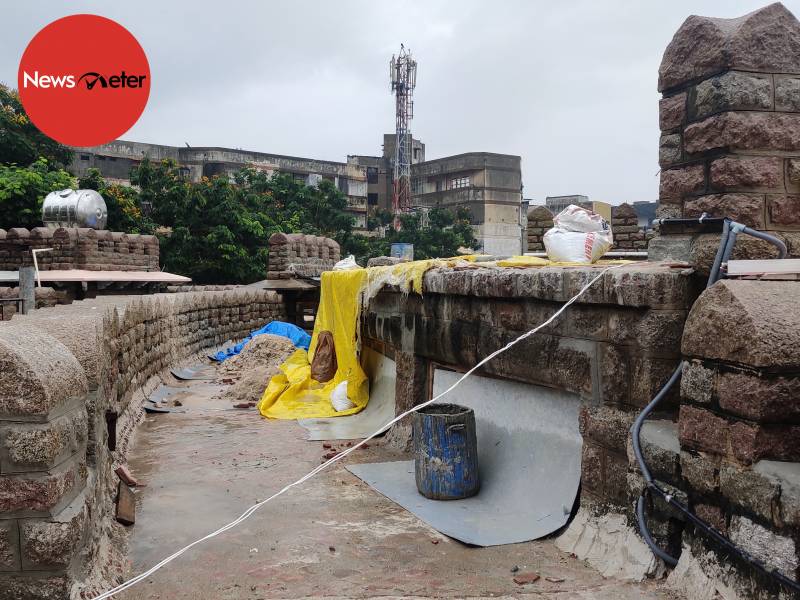 The Mozzamjahi Market was originally constructed in 1935 under the reign of Mir Osman Ali Khan. The building, in the 85 years of existence, underwent severe damage, encroachment, and negligence by authorties. As a result of the same, it was adopted by officials of the MA&UD and given a facelift. The repair-works were completed during the pandemic-induced lockdown, and the market was opened for the public on Friday, August 14th.