Hyderabad: Around 300 post-graduate doctors treating COVID-19 patients at Gandhi Hospital in Hyderabad, have gone on strike, demanding special protection. This comes after two attendants of a COVID patient, attacked a junior doctors, on June 9th.
The Post graduate doctors sat on protest in-front of the Gandhi Hospital and refused to resume work until the issue is addressed by the higher authorities.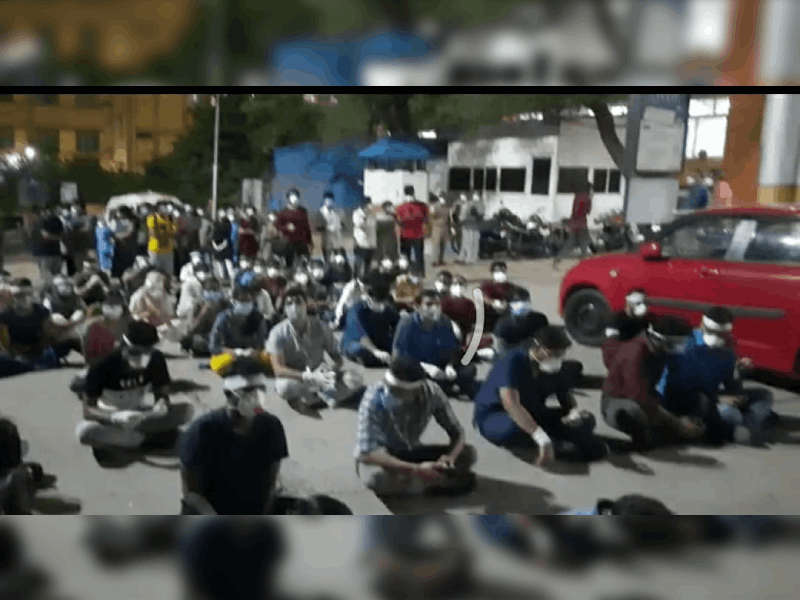 The facts of the case are, A 55-year-old male Covid-19 positive patient, with respiratory issues was admitted 3 days ago to Gandhi Hospital. He was undergoing treatment in the Acute medical ward. The doctors explained to the patient's family about his poor prognosis. "Despite of this, the patient went to the washroom by removing CPAP mask, he suffered a cardiac arrest. The patient died at around 7.30 pm, on Tuesday, in-spite of resuscitation. As a result of this, the patient attendants attacked a post graduate doctor on duty, they used a plastic chair against the doctor. They also picked up an iron stool against him, but fortunately he moved away" said a PG doctor on protest.
The junior doctor who was attacked told media persons that, " Two attendants barged into the COVID-19 ward where patients are being treated and attacked the doctor on duty when the news of the patient's death was disclosed.
[amp-tweet tweetid="https://publish.twitter.com/?query=https://twitter.com/NewsMeter_In/status/1270411819312504832&widget=Tweet"]
#Watch: Post graduate doctors treating COVID-19 patients at Gandhi Hospital staged a protest following an attack on a junior doctor by two attendants of a patient. The PG doctors, on Tuesday, sat in front of the hospital demanding for special police protection. pic.twitter.com/Nr7MGdJlFB

— NewsMeter (@NewsMeter_In) June 9, 2020
Dr Pallam Praveen- President Telangana Govt Doctors Association said, "It's barbaric and ridiculous act. Everyone should condemn this inhuman attack on doctors". The PG doctors on protest , put forth demands. They include, demand for a Special security force for doctors at all emergencies as assured earlier by government. Decentralization of Covid cases from Gandhi to all other hospitals similar to other states. And transparency over the actions taken for the similar incidents that happened earlier through media.