Hyderabad: On 26 July, the government put a cap on the medical bills from private hospitals after many raised issues about hospitals not providing a breakup of bills and charging extra for services. On 10 August too, the health minister set up a committee to look into these complaints. But patients who underwent treatment before 26 July are facing issues that are not being addressed.
One such case is of a 52-year-old patient from Moula Ali whose family said that despite having health insurance Yashoda hospital refused to acknowledge it and demanded a lakh rupees upfront. Eventually, they settled to take Rs 50,000, the family said.
"My father had angioplasty on 2 July and was discharged on 9 July. Later he developed symptoms of COVID-19 and was admitted on 12 July. But this time they said that the insurance did not cover COVID-19 treatment," the patient's son said under the condition of anonymity.
The family also alleged that the hospital charged more than the usual rate for PPE kits. "For his stay in the hospital for 12 days the hospital charged Rs 96,000 only for PPE kits. But the bill doesn't show the breakdown of the said amount," he said. The total bill amount came up to around Rs 3.35 lakh. NewsMeter is in possession of copies of the said bills.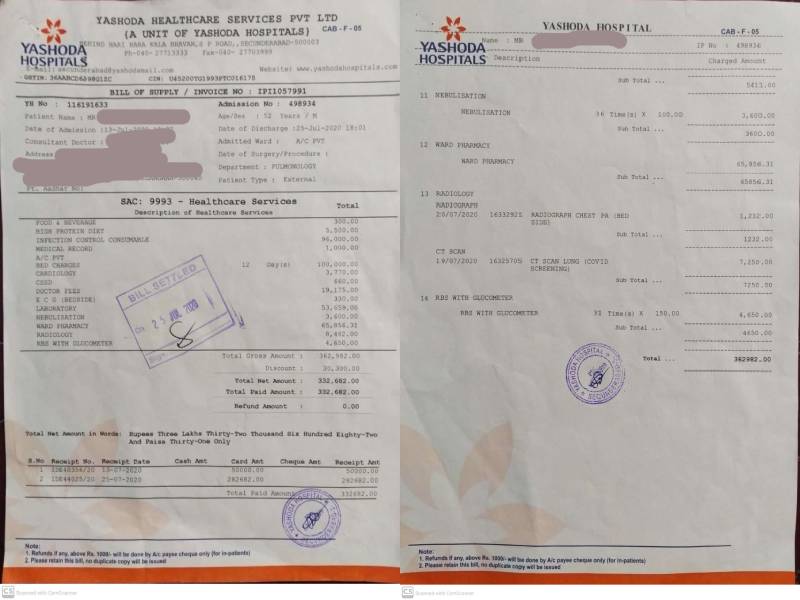 The family also alleged that the hospital charged three different bills for the same kind of CT scan. "For the first one, they charged Rs 3,000, for the second Rs 5,000 and for the third they charged Rs 7,300," he added. Yashoda Hospital is yet to respond to these claims.
Last month, the deputy director of National Pharmaceutical Pricing Authority (NPPA), Pankaj Kumar, asked the Commissioner of Police, Hyderabad, to coordinate with the Drug Controller to submit an action taken report on hospitals which have not provided a breakup on the bills and charged extra for services.