Highlights
Salaried lot in doldrums after withdrawal cap
Hyderabad: With each passing minute, the queue of people coming to withdraw money kept getting longer at the Banjara Hills Road No 12 branch of Yes Bank here on Saturday.
Though officials confirmed money will be deposited by 11:45 am, people became agitated because of the inordinate delay. Since morning the bank has been directing people to RB Road and Banjara Hills branches for withdrawals.
K Suneetha, whose sister's marriage has been scheduled for March 13, told NewsMeter, "Since last evening I'm visiting the Hi-tech City branch. Initially, they said we can withdraw only Rs 50,000 this month and another equal amount next month. However, after negotiation now they have allowed us to withdraw the entire deposit. But one is not certain."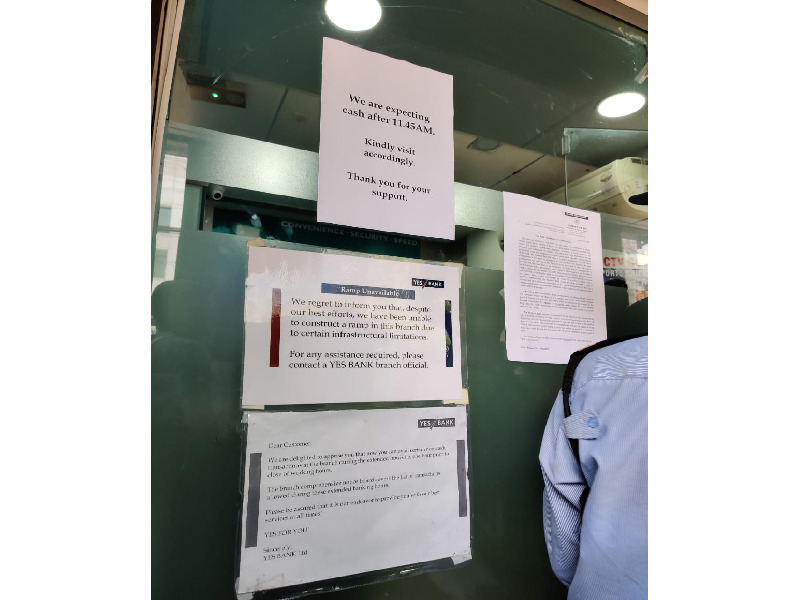 Ramu, whose mother has been admitted in Gandhi Hospital, and standing in the queue said "My mother is in hospital. Also it is a working day for me. At any cost, I need to withdraw money. Although, I came at 9 am, they are asking us to come back after three hours."
Since the Reserve Bank of India (RBI) has imposed a withdrawal cap of Rs 50,000 per account for this month, account holders are also worried regarding the fate of their deposits.
Raghuram Govind said "I'm experiencing the problem since Thursday night. Only yesterday I came to know the reason. Thankfully, I don't have any fixed deposits here."
Meanwhile, people whose salary was credited on Friday are in a helpless situation.
"When I went to withdraw the money at a nearby ATM there was a crowd. That's when I came to know of the crisis. The month has just started and there are a lot of bills to settle."
An employee from Banjara Hills branch of Yes Bank said, "Cash has already reached Raj Bhavan road branch. We are requesting people to give their mobile numbers and leave. We can call them once the cash arrives."
The RBI on Thursday night placed Yes Bank under moratorium.