Hyderabad: More than 11,600 Indians living abroad were found to be infected with Coronavirus. Of them, 373 succumbed to the infection by the second week of September. NRIs
Surprisingly, the country that has reported the highest number of Covid-affected Indians was Singapore, with 4,618 infections, while other countries where Indian population is high in number, including the USA, are doing well on this account.
The US, Saudi Arabia, UAE, UK, South Africa, Canada are some of the countries where NRI population is maximum outside of India. Over 3.1 million Indians live in the US, 2.4 million in Malaysia, 2.2 million in UAE, 1.4 million NRIs in UK and 1.3 million in South Africa.
According to the external affairs ministry, 4,618 Indians were found to be infected with Covid in Singapore while another 2,639 in Bahrain, 1,769 in Kuwait, 907 Indians in Oman, 420 in Qatar, 308 in Iran, 238 in UAE and 192 Indians in Italy were not spared by nCoV. All the other countries with sizeable Indian population reported just double digit figures that were below 60.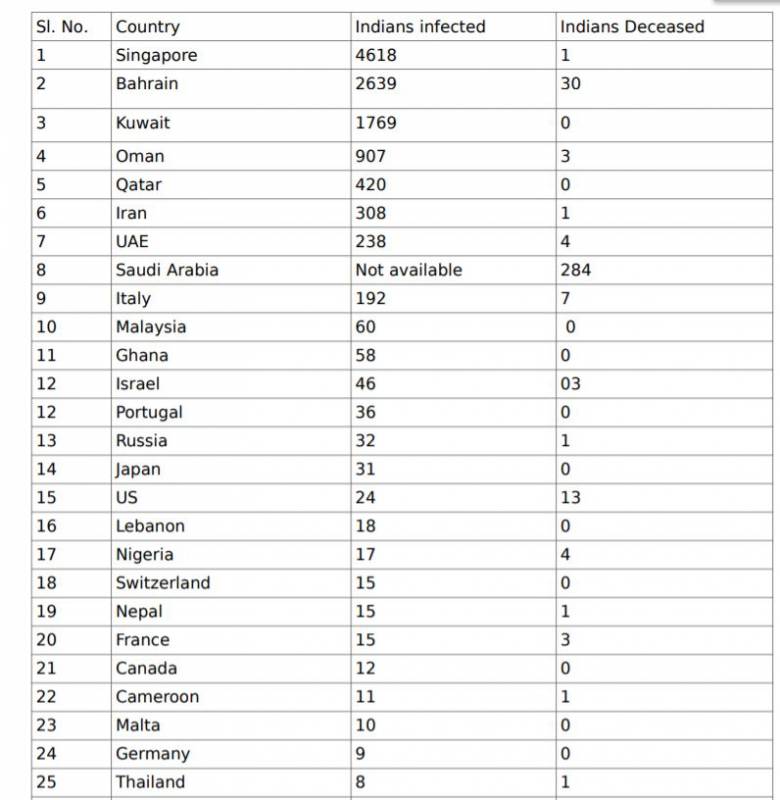 In the US which has the highest caseload in the world, only 24 Indians tested Covid positive and it shows the safety and hygienic measures followed by the people of Indian origin living there.
The highest number of Indians who died of Covid in foreign countries is from Saudi Arabia (284) while 30 Indians died in Bahrain. In Singapore, only 1 Indian out of the 4,618 infected died of the virus while the remaining patients recovered completely in due course of time.
Replying to a query in the Lok Sabha, Minister of State for External Affairs V. Muraleedharan said that Indian missions were arranged in the foreign countries by Indian community associations for the welfare of our nationals.
In some cases, arrangements were also made for boarding, lodging and emergency medical assistance. The total expenditure incurred by these missions in assisting Indian nationals in distress from the Indian Community Welfare Fund was close to Rs 22.5 crore. NRIs
Meanwhile, nearly 14.47 lakh stranded Indian nationals have returned to India under the Vande Bharat Mission (VBM), including those from remote areas in Carribean Islands, Latin America and Africa. Most Indians with compelling reasons have safely returned to their homes by air, land and sea in five phases of VBM so far.