Hyderabad: While a backache is a common complaint among people, doctors were shocked to find a bullet in a woman who approached them with back pain complaints. They removed the bullet from 18-year-old Asma Begum, who is a Falaknuma resident in Hyderabad's Old City according to hospital authorities.
According to sources, Asma Begum came to NIMS hospital two months ago, and the doctors gave her medication. However, she was referred to a series of tests, as there was no change in her condition. Seeing nothing on the tests, doctors referred her to an MRI. The imaging showed a bullet lodged in the woman's upper torso. The woman was admitted in the hospital on December 21.
Further, on inquiry, doctors found an entry wound in the rear upper torso, and the wound was not fresh. However, the woman could not give more details about the injury and the bullet in her body. Reportedly, she expressed ignorance of the bullet's presence. The bullet was kept safe, and the hospital authorities alerted the police. However, the woman had already moved out by the time police arrived at the hospital.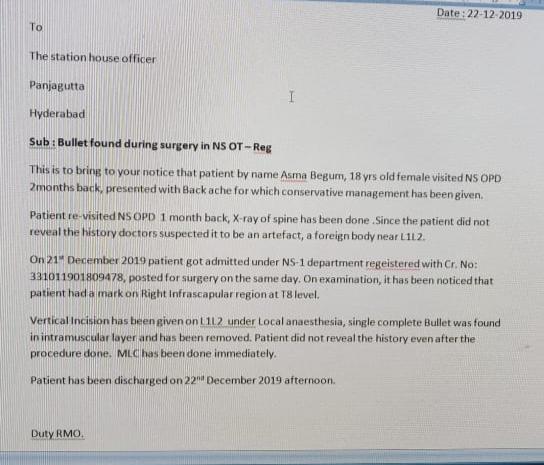 Speaking about the case, DCP West Zone AR Srinivas said, "One Patient by name Asma Begum, 19 years old resident of Falaknuma got admitted in NIMS Hospital with back problem. Doctors on operating found a bullet lodged near her spinal cord. This injury appears to be more than one year old. Last one year the lady was in pain but was not telling anyone about the bullet injury. FIR has been registered and case is under investigation.