Hyderabad: Necessity is the mother of invention. This stands true for 400 Narayanpet handloom saree weavers who have switched over to spinning cotton fabric for face masks after their business hit the dead-end due to the lockdown.
"Narayanpet handlooms weave both silk and cotton fabric. But cotton is the dominant fabric in the handloom sector. We have more than 600 looms dedicated to weaving cotton cloth. They primarily spin sarees. So now instead of spinning sarees they are making fabric for masks," Narayanpet District Collector Harichandana told NewsMeter.
#MaskIndia. Using #Handloom cotton cloth for which #Narayanpet is famous for, Women #SHGs making #masks for all. Everyday is a Monday for these #lockdownheroes

#coronawarriors #FightCOVID19 pic.twitter.com/9kuwq9GKHM

— Collector Narayanpet (@CNarayanpet) April 7, 2020
Later the cloth is sold to Self Help Groups (SHGs) at Rs 45 per meter depending on the quality of the material. The women groups later stitch them into masks and sell each at Rs 10.
"Both parties are getting benefited by this arrangement. The government has issued an advisory that everyone should have a cotton mask. It is an opportunity for handloom weaver to earn a livelihood", said Harichandana.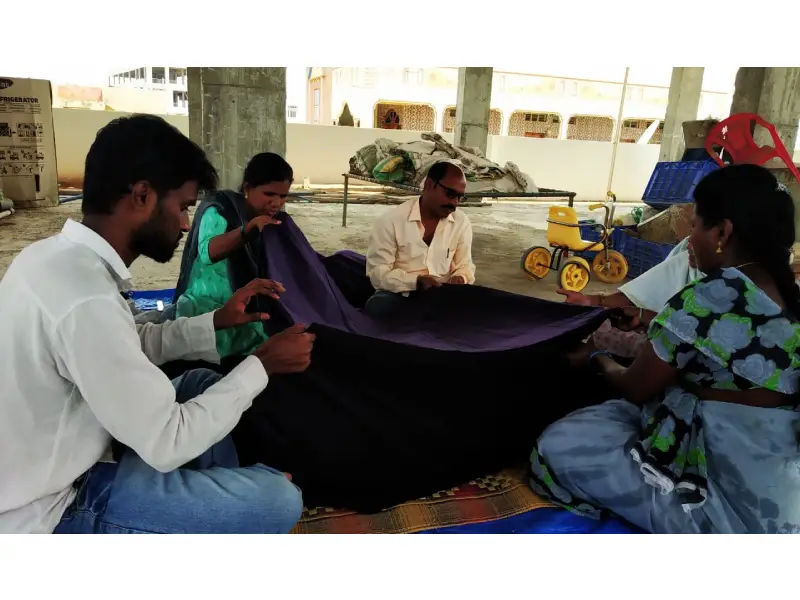 District authorities have ordered 10,000 masks to distribute among the employees. "Narayanpet has a population of 5.5 lakh. I want every person in a family to have at least two cotton masks so that they can wash and reuse them instead of the disposable masks that generate a lot of trash," the collector said
There are around 2000 women associated with SHG. Each woman produces 100-200 masks a day. "A handloom worker gets Rs 5 while as Rs 6 is paid to the SHG women for stitching the mask. The input cost is Rs 1 to 2 per mask. A woman earns Rs 4 per mask", an official said