Hyderabad: National Human Rights Commission (NHRC) has directed Hyderabad City police commissioner to investigate into the alleged abduction of 42 underprivileged children from the shelter homes of Telangana Women and Child Welfare Department.
It had been alleged that the children rescued from different parts of the state were kidnapped by anti-social elements. Based on a complaint lodged by Rapolu Bhaskar, an advocate at Telangana High Court, the NHRC directed the police department to inquire into the issue and submit a report within four weeks.
Rapolu in his complaint stated that Telangana Women and Child Welfare department are running children centers in different districts for orphans and kids involved in begging.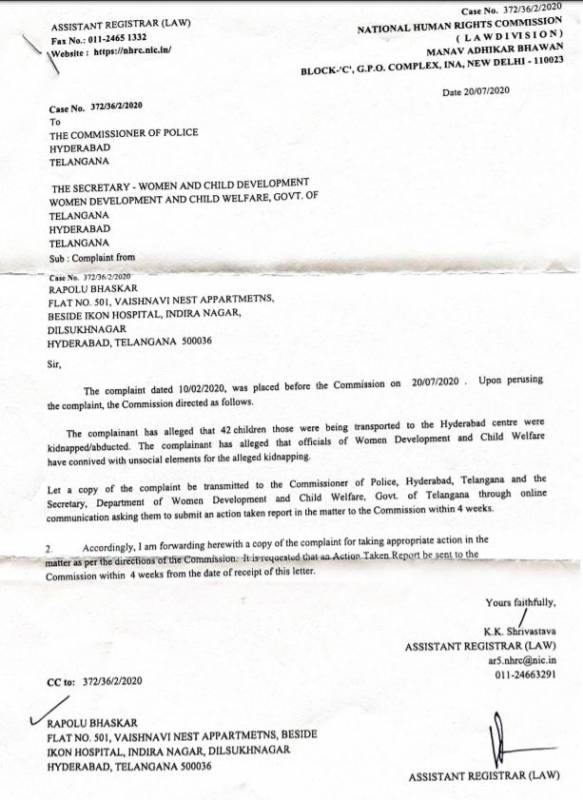 All such children are rescued and lodged in welfare centers at the district level. Nearly 42 children had been brought to Hyderabad. However, en route, they were kidnapped. There are allegations that these children had been sold off by the officials of the Women and Child Welfare Department.
Though the rules mandate the children to be escorted by the police, it was not followed making it easier for kidnappers to commit the crime.
Rapolu stated central Intelligence agencies and media had also exposed the modus operandi of the officials. He also urged the commission to investigate the case so that kidnapped children are rescued and rehabilitated.