Hyderabad: An 8-hour duty of standing in hot or cold or rainy season, in the middle of the road facing the threat of hazardous gases, dust from nearby construction sites and vehicular pollution, the traffic police do their job calmly to allow passersby travel smoothly on the road.
Moved by the plight of these personnel working in such a condition that pose risk to their health, the Telangana government had begun providing pollution hazard allowance to these traffic personnel.
In Telangana, a total of 4,952 traffic police personnel are being given pollution hazard allowance, home minister Md. Mohamood Ali said in the Assembly.
Out of them, 2,334 are Home Guards, 84 are inspector rank officers, 152 are SI rank officers, 263 are assistant Inspector rank officers, 338 are head constable rank personnel and 1,781 are constable rank personnel.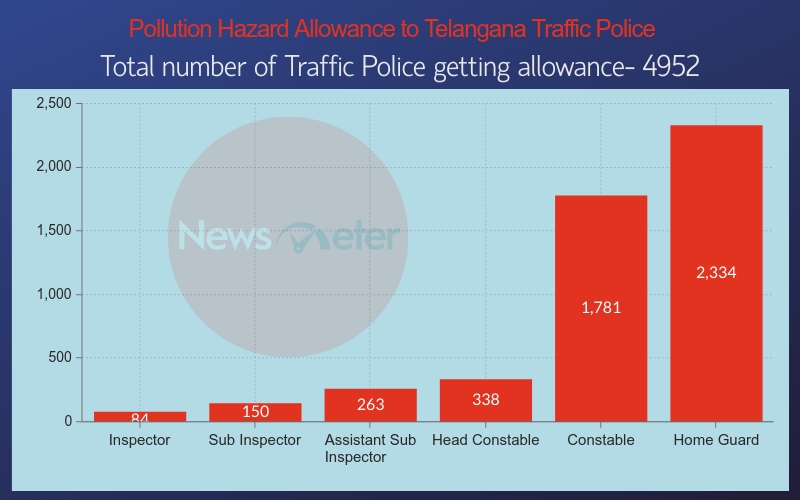 In Telangana, especially in Hyderabad, Cyberabad and Rachkonda Commissionerate, traffic police personnel are discharging duties in heavy pollution, both air and noise, which is likely to make them impaired of hearing as they are exposed to heavy noise for nearly 8-10 hours a day.
In January 2016, the Telangana government ordered a sanction of 30 per cent basic pay as pollution hazard allowance to all the executive staff, from the rank of police constable to the Inspector of police, working for traffic branch in the state. The government also issued a sanction of 30 per cent on honorarium as pollution hazard allowance to all the Home Guards working with the traffic branch in the state.
In 2016, the city police conducted a health survey in which several traffic police personnel in Hyderabad city were found to be suffering
from lung-related disorders like pneumonia and bronchitis due to severe air pollution.
It was also reported that a sizeable number of traffic police were facing hearing impairment due to high-level of noise pollution while others complained about eye-related problems due to dust particles.
In the same survey, it was found that all these health-related problems are likely to affect life expectancy among the police personnel who
have worked for 5 years in the traffic wing.
The job profile of the traffic police is to regulate traffic from morning 8 pm to night 10 pm, in two shifts irrespective of weather conditions and health risk.
The government said that at junctions where the pollution is at a hazardous level, the personnel were shifted to another place within a few hours so that it won't have an impact their health.
The home minister also said in the legislative Assembly that Rs 75,000 was also given to all the police stations in the city for maintenance works and that in rural areas, Rs 25,000 was given for the same.