Hyderabad: In April, when Lockdown 1.0 was imposed, a 22-year-old migrant labourer from Tamil Nadu, Logesh, died in Hyderabad after walking for 500 km. He suffered a cardiac arrest when the batch of young workers reached Secunderabad.
Bala Subrahmani Logesh worked as a private employee in Nagpur but lost his job due to the lockdown. He, along with 25 others, had walked from Nagpur and reached Secunderabad, covering 500 km carrying their belonging and burdens.
The batch of young workers stopped in Secunderabad for a night and Logesh died due to cardio-respiratory arrest on April 2 morning. The news was widely covered across the media to mirror the plight of workers.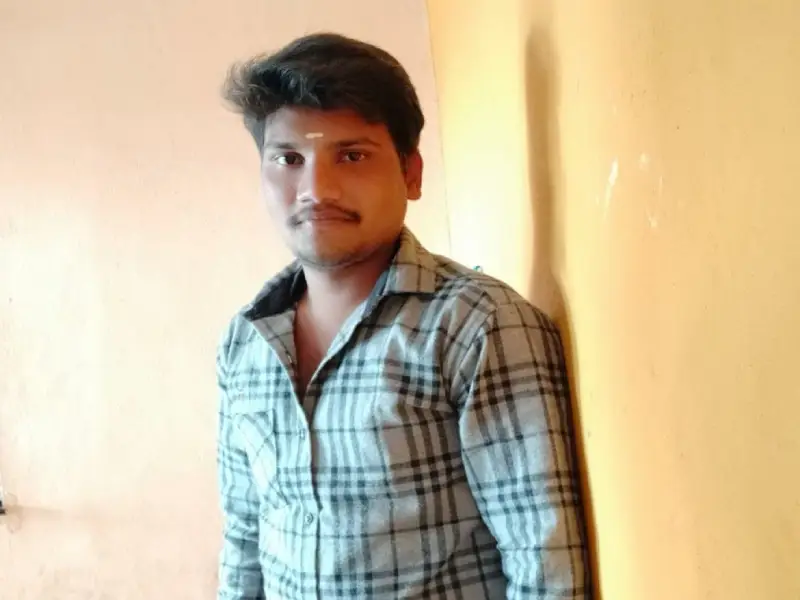 Good Samaritan Harish Daga, a resident of Hyderabad, pitched in to ensure Logesh's body reached home. The man spoke to the police chiefs of both the state and even took help of Union Home Minister Amit Shah and of Union minster of state Kishan Reddy's office to transport the body to Tamil Nadu.
In this particular case, the two states and the offices of two Union ministers were involved. But what has come as a rude shock is Center's answer in the Lok Sabha citing no information available on migrant worker's death during the national lockdown.
On day of the parliament session A Lok Sabha MP from Tamil Nadu raised a question on migrants workers' death, the house concluded 'No information available'.
MPs K Navaskani, Balubhau ( Suresh Narayan Dhanokar) and Adv. Adoor Prakash questioned the house on the data on migrants who returned home during national lockdown. Besides this, they asked for the number of migrant workers who lost their life in the middle of the journey. To which the house on migrants deaths said, "No information is available".
However, In response to a question raised by Hyderabad MP Asaduddin Owaisi, The ministry of Labour said, in total 10,46,6152 workers returned home. Of which 32,571 are from Andhra Pradesh and 37,050 from Telangana.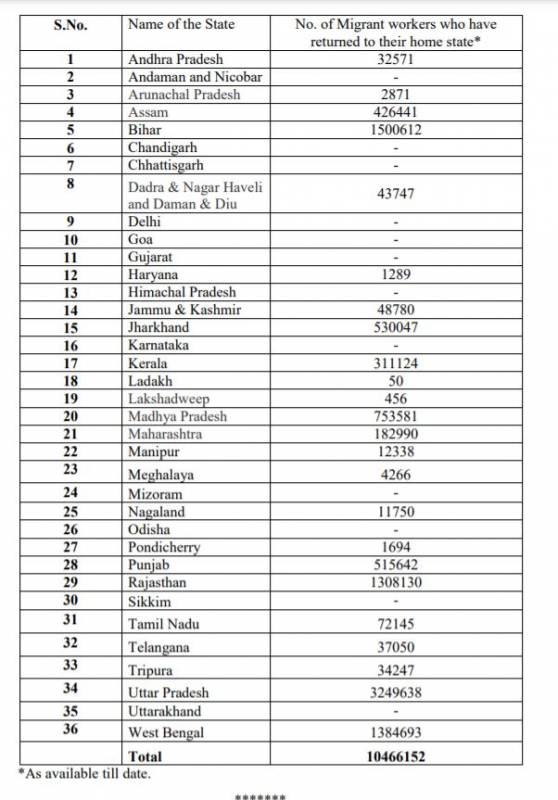 A high number of workers 3,24,9638 returned to their home in Uttar Pradesh, followed by 1,50,061 to Bihar which also reflects the rate of migration for employment.
Workers were left with Rs 100 during lockdown 1: Survey
According to an independent study conducted by Stranded Workers' Action Network (SWAN), 64 per cent of migrant workers they spoke to had less than Rs 100 with them during the national lockdown.
The study, which collected data from 16,683 workers, who responded via distress calls, also found that 97 per cent of these workers have not received any monetary aid from the government.
Though not representing the entire nation, the report shows that more than half of the migrant workers had ration left for less than a day. While this number increased to 54 per cent by April 14, it remained steady at the half-way mark later.
The report also found that a majority of the workers were stranded in Maharashtra (4,823), followed by Karnataka (4,736), Uttar Pradesh (1,869) and Delhi (1,361).