6 held for stealing, selling 108 motorbikes in East Godavari, vehicles worth Rs 43L seized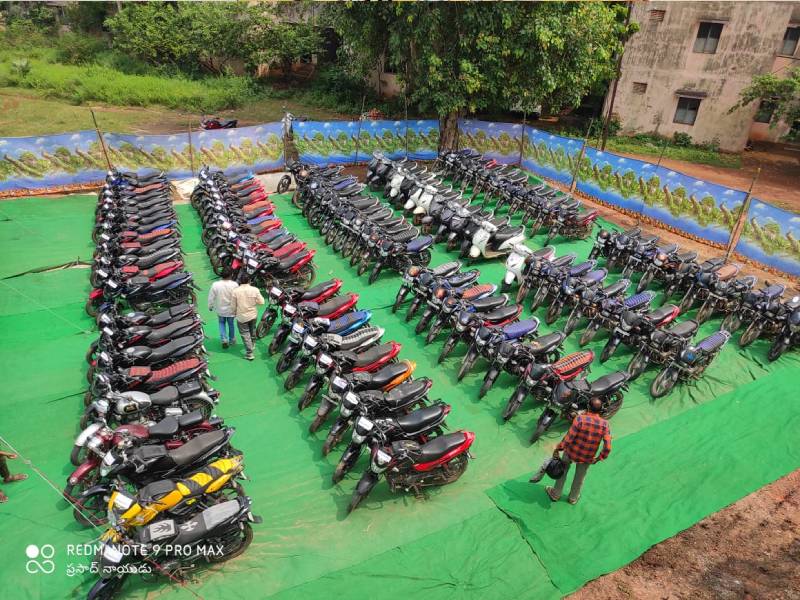 Rajahmundry: The East Godavari police arrested two persons for lifting as many as 108 bikes. The accused were identified as Kavadi Nani Singam and Bandi Siva, both belonging to Madiki village of Alamuru mandal in East Godavari district. It is estimated that the value of the seized vehicles is around Rs 43 lakh.
Apart from the two persons, four others, Katheti Chinna, Singidi Hari Durga Prasad, Chintala Lova Raju and Guthula Srinu, were also arrested for purchasing the stolen bikes and later selling them.
The prime accused, Kavadi Nani Singam, a mason by profession, had been arrested by the Maharashtra police for stealing motor bikes and had come out on bail recently.
In 2016, he went to Abu Dhabi and worked as a JCB operator till 2018. Bandi Siva is also a mason and is the cousin of Nani Singam. The duo began stealing motorbikes to make easy money and lead a luxurious life.
The duo used to open lock of the targeted vehicle with a duplicate key or break the lock exerting force. After stealing the bike, they used to sell the same with the help of Katheti Chinna, Singidi Hari Durga Prasad, Chintala Lova Raju and Guthula Srinu, who in turn, used to sell the stolen bikes.
Taking an advance of Rs 7,000-Rs 10,000 from the buyers, the four accused, who bought the bikes from Singam and his cousin, used to collect the remaining money after arranging the RC book.
Police said that the 108 bikes were stolen from 9 districts in Andhra Pradesh. Of them, 34 vehicles were stolen from East Godavari district, 22 from West Godavari district, 43 from Visakhapatnam, seven from Vijayawada and two from Vizianagaram district.
Cases were booked under sections 379,411 and 413 of IPC.