Hyderabad: A study has found that 72 per cent of registered Indian American voters plan to vote for Joe Biden while 22 per cent intend to vote for Donald Trump in the upcoming US presidential election. For the 2.62 million Indian American citizens, economy and healthcare are the two most important issues for their vote choice, according to the
Carnegie Endowment for International Peace study
.
The 2020 presidential election is scheduled for 3 November and according to The New York Times, one-third of eligible voters in the US have already cast their vote through the ballot.
The current US President Donald Trump and his Vice-President Mike Pence are seeking a second term against the Democratic candidate, former Vice-President Joe Biden, and Senator Kamala Harris. Early polls by various news organisations are showing Biden ahead of Trump.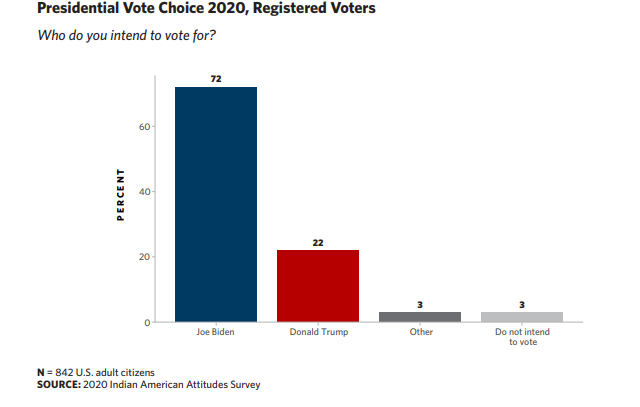 Of the 2.62 million Indian-Americans, 1.4 million are naturalized citizens while 1.2 million were born in the United States. Of that group, the total eligible voter population is 1.9 million or about 0.82 per cent of all eligible voters in the country, according to the study.
"Indian Americans do not consider US-India relations to be one of the principal determinants of their vote choice in this election. The economy and healthcare are the two most important issues influencing the vote choice of Indian Americans, although supporters of the two parties differ on key priorities. 'Kitchen table' issues dominate over foreign policy concerns," said the study.
The study, conducted by Sumitra Badrinath, Devesh Kapur, and Milan Vaishnav, found that Indian Americans remain solidly with the Democratic Party. Recent anecdotal narratives notwithstanding, there is scant evidence that Democratic voters are defecting toward Trump and the Republican Party.
The study found that Indian Americans exhibit signs of significant political polarisation. Just like the wider voting public, Republican and Democratic Indian American voters are politically polarised and hold markedly negative views of the opposing party and divergent positions on several contentious policy issues, from immigration to law enforcement, according to the study.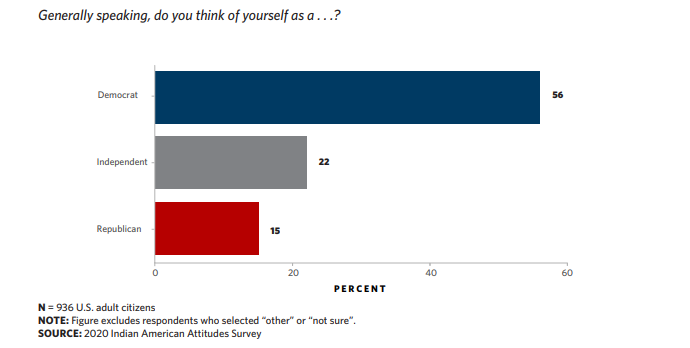 US-born Indian American citizens tilt left compared to foreign-born citizens and while both US-born and naturalised Indian Americans favour the Democratic Party, this tilt is more pronounced for US-born Indian Americans, the study found. Political participation by naturalised citizens is more muted, however, manifesting in lower rates of voter turnout and weaker partisan identification, it further said.
"Harris has mobilized Indian Americans, especially Democrats. Harris's vice-presidential candidacy has galvanised a large section of the Indian American community to turn out to vote. On balance, while the Harris pick might not change large numbers of votes (given the community's historic Democratic orientation), her candidacy is linked to greater enthusiasm for the Democratic ticket," the study said.
It also found that a large section of Indian Americans views the Republican Party as unwelcoming. Indian Americans refrain from identifying with the Republican Party due, in part, to a perception that the party is intolerant of minorities and overly influenced by Christian evangelicalism. Those who identify as Republicans are primarily moved to do so because of economic policy differences with the Democrats, with particularly marked differences regarding healthcare.
The study further said that political beliefs seep into perceptions of US-India bilateral relations. Indian Americans believe that Democrats do a better job of managing US-India ties by a considerable margin while Republicans hold more favourable views of Narendra Modi.
The data for this study is based on an original online survey, the Indian American Attitudes Survey, of 936 Indian American conducted by polling firm YouGov between 1 and 20 September.