Hyderabad: "When people you considered as neighbours and friends tell you, leave or else you will be killed by my men, what you can do." says Ms. Anju Dhar who fled Kashmir, when she was just 10 years old.
It hasn't been an easy ride for the Kashmiri Pandits, as they ran away from the hills, and settled down in Hyderabad, fearing persecution.
Kashmiri Pandit families, clearly remember what happened on 19th January 1990, when the so-called exodus of Kashmiri Pandits happened. Lakhs of Kashmiris abandoned their ancestral houses, belongings and even their identity, fearing for their lives. All migrated to different places, but what connects them is their wish to return to their homeland.
To showcase their wish, around 150 Kashmiri Pandits gathered at Amrith Dham Ashram in Narsing, Hyderabad and conducted a 'Hawan', an ancient Indian practice of worshipping the god. The Kashmiri pandits who gathered said they want peace in Kashmir and expressed their wish to return to their homeland. The 'Hawan' was organized by the Kashmiri Hindu Sabha Telangana.
In the 1990s, Kashmir witnessed a peak in militancy, which turned the valley unsafe for the minority Kashmiri pandits. Anju says, "People would slide letters under our doors which said "leave or else we'll kill you". Even the J &K police couldn't help us when we were threatened by the militants then.
While describing about the situation in Kashmir, before the 1990 exodus, Anju says, "We constantly, used to hear was a slogan, 'Yaha kya banega? Nizame mustaffa' (what state will be this? It will be a Nizam's State.) And at this time, a lot of Kashmiri intellectuals and Kashmiri Pandits were killed. This is when fear started inflicting the Kashmiri Pandits. We were given three options, to convert to their religion, to run away or to get killed."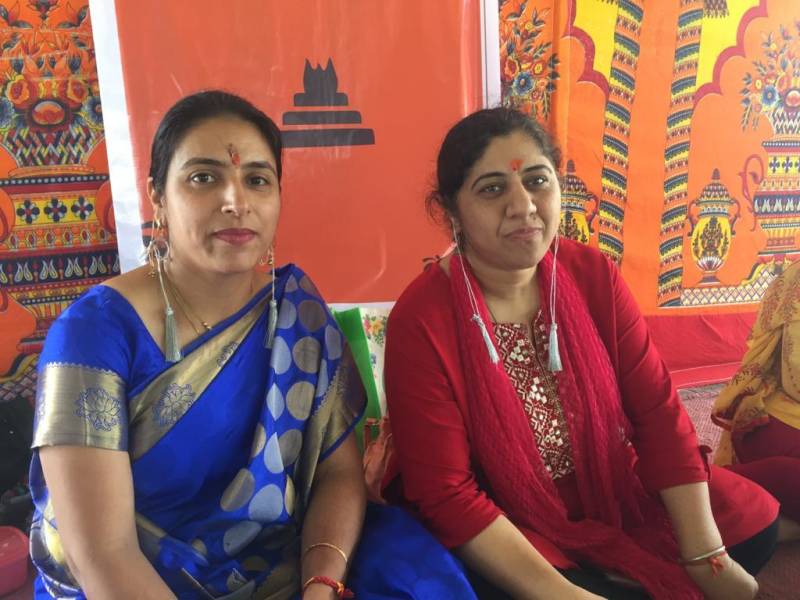 Anju Dhar and Neetu Raina
Talking about that doomsday when they all fled the valley in haste, Ms. Neetu Raina says, "Around 40 people were loaded in a truck like cattle and they all ran from Kashmir. I was one of them and we remember that in half an hour, we packed and left. We just picked few clothes and left, thinking that we will go back. But we never went."
She says that they were registered as refugees in Jammu and a single tent was shared by two families.
Now, all the Kashmiri Pandits who gathered for the Hawan today are living peacefully in different parts of Hyderabad, but they say that they can never forget their life in the Valley.
Bharat Bhusan Dhar, who is the spokesperson of Kashmiri Hindu Sabha Telangana, says, "In our village, 'Hawan' used to happen regularly. I as a young boy, used to look ahead to it as it was huge gathering, with lot of my friends coming."
Over the years, many Kashmiri Pandits had tried to return to Kashmir but were unsuccessful. Neetu says, "I remember an incident, which happened with a girl called Sarla. She tried to go back to her house, to get her employment copy, but she never returned. We all heard that she was gang-raped and cut into two pieces. This news led to fear and no one ever dared to go back to Kashmir."
Bharat says, "We hope after the abrogation of Article 370, we will be able to buy properties again in Kashmir and we will be able to live in the valley, where we spent our childhood."