Hyderabad : The Anti-Corruption Bureau raids carried out against Keesara tahsildar Erva Balraju Nagaraju and two real-estate dealers turned out to be the biggest catch for the Telanagna ACB with Rs 1.10 crore cash found in a guest house and Rs 8 lakhs in a vehicle.
The sleuths of ACB seized several property documents of land in Rampally Dayara falling in Keesara Mandal. However, In revelation of sorts, officials found a bunch of Members of Parliament Local Area Development Scheme (MP-LADS) files of Congress MP A Revanth Reddy from accused K. Anji Reddy.
Acting upon intelligence inputs, ACB officials, on 14th August, raided a guest house in A S Rao Nagar, Hyderabad and caught red-handed Erva Balraju Nagaraju (47) Tahsildar of Keesara. He is accused of demanding bribe of Rs 2 crore from Chowla Srinath (50) real estate dealer of Sri Satya Developers, Swaroop nagar, Uppal, to settle a land dispute case. Kandadi Anji Reddy (40) another real estate dealer from Rampally Dayara, Keesara Mandal, connived with them.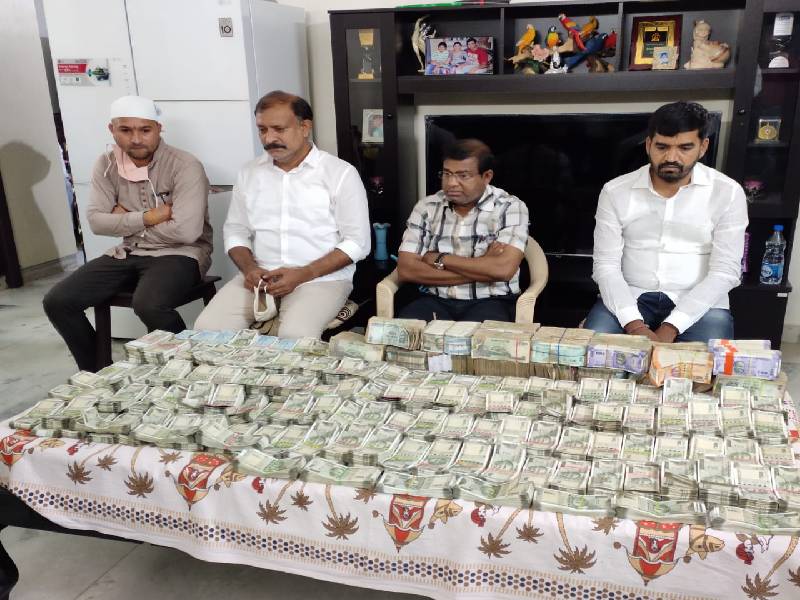 A highly placed source told NewsMeter, "Accused K Anji Reddy who was caught-red handed in the guest house had a bunch of Congress MP A Revanth Reddy's MP-LADS recommendation letters. Few documents included development works proposed by the MP and few nomination files. As per the protocol, no one else but the MP should possess such documents before it is submitted to the collector. All files have been seized, investigation under way'.
What was the land deal about?
The ACB received a tip off that Keesara tahsildar demanded Rs 2 crore from real-estate dealer C Srinath to settle land dispute case. " The matter is concerning 28 acres of land at Rampally Dayara falling in Keesara Mandal. Earlier the land was under dispute, however few parties approached the Court and received favourable orders. Accused C Srinath wanted to buy this land from the concern parties and intended to develop it. The Tahsildar and Srinath arrived at a bribe amount of Rs 2 crore.
#Watch: Sleuths of Anti Corruption Bureau-#Telangana carried out searches against Keesara's Mandal Revenue Officer and unearthed cash. Earlier in the day, the MRO was caught red-handed accepting bribe. pic.twitter.com/B604S4uNEY

— NewsMeter (@NewsMeter_In) August 14, 2020
[amp-tweet tweetid="https://twitter.com/NewsMeter_In/status/1294320477859532802"]
During the raids, ACB officials also found proceeding (order) copies in favor of accused C Srinath even before the documentation works are completed. The sleuths also found Rs 8 lakh cash in the car of the Tahsildar parked outside the guest house.
Searches at the Keesara MRO's office are underway.
This is a developing story.