After MANUU, Osmania University and HCU, Nalsar Law School students rise in solidarity with Jamia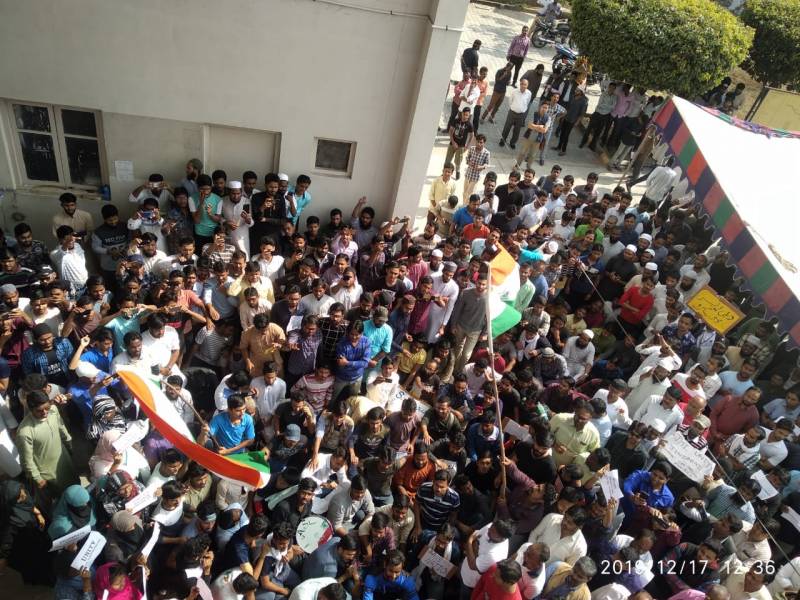 Hyderabad: India's universities are echoing with slogans. As student protests surge across the country, those studying in law universities have come out to condemn the police violence unleashed on Jamia and AMU students on December 15.
Several student bodies from the National Law Universities (NLUs) issued a statement on Tuesday, slamming the violent police action meted out to students from Jamia Milia Islamia and Aligarh Muslim University.
Calling the police crackdown 'unwarranted', the law students' statement said, "As students of law, who are taught the importance of following due procedure, the actions of the law enforcement authorities authorized by the state are completely out of line and unwarranted and disproportionate…These actions against the protesting students have violated their constitutional protections endangering their lives and brought shame to our democratic values that we cherish and strive to uphold."
Hyderabad's NALSAR University of Law has also come forward, making it the fourth major university in Telangana to show solidarity with the student community, after Osmania, MANUU and HCU.
Call for massive student protests across Telangana
In Hyderabad, Maulana Azad National Urdu University (MANUU) students are on their third day of protest today. According to MANUU Students' Union President, Umer Faruq Quadri, the Cyberabad police have so far stopped the media and other visitors from entering the campus.
The student community in Telangana have planned to take out a massive protest against the Citizenship Amendment Act, from Osmania University, on December 17 at 5 pm. Students from Osmania University, English and Foreign Languages University (EFLU), Telangana University (TU), HCU and MANUU are expected to participate in the demonstration.
Meanwhile, other universities have continued taking out marches and rallies. Foreign universities like Harvard University and Columbia University have extended their solidarity with the protesters. In their open letter addressed to the government of India, the students said, "We are shocked and deeply concerned about many of the anecdotal reports being shared on police brutality aimed at breaking the spirit of protestors including anecdotes of police attacks on female protestors… we stand in solidarity with the students and other citizens of India who have met this act with strong dissent and opposition."