Aloe vera or Ghritkumari is one of the most treasured plants in any garden. Just, don't get fooled by its humble looks, as the benefits it offers can give any expensive cosmetic product, a run for its money! From treating dryness to controlling excess oil and even lightening your complexion, there is very little that Aloe vera cannot do for your skin.
In this article, we have listed out 8 Major Benefits of Aloe vera for Skin, along with ways to use it to deal with a specific problem or skin type. Read along to get amazed by this tiny, yet mighty plant!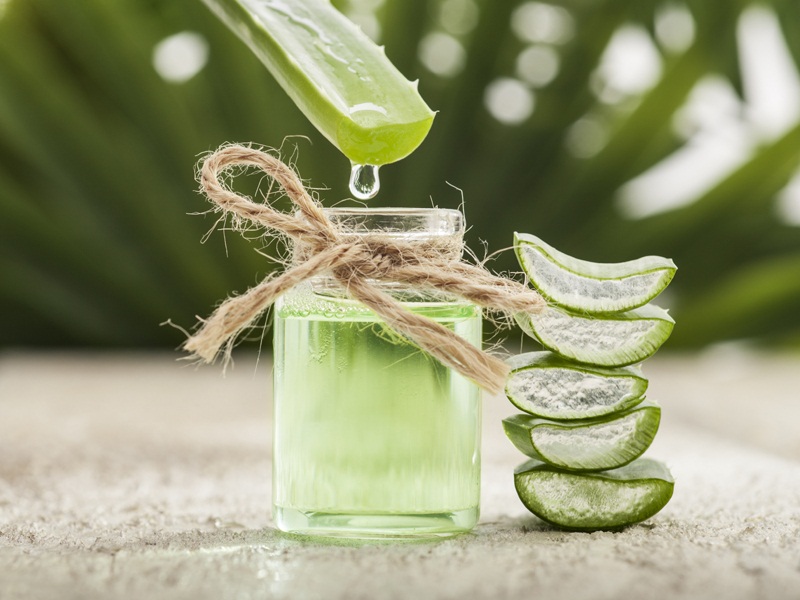 8 Amazing Benefits of Applying Aloe Vera on Face and Skin:
Aloe vera is a shrub that belongs to the family of succulents. It contains soft leaves that are surrounded with prickly thorns. Inside the leaf is a white, transparent gel that mainly constitutes of water, along with vital nutrients like vitamins, sugars, minerals, saponins, antioxidants etc.
Let us look into the key benefits of using this gel on our skin:
1. Hydrates Your Skin:
The mucilage or white gel inside the Aloe vera leaf comprises of 99.5% of water. This can be particularly beneficial to dry and parched skin that lacks enough moisture. Applying Aloe vera gel can instantly replenish the lost water levels and eliminate flaky appearance. Along with hydration, the amino acids and other nutrients present in the gel can bring a healthy glow to your skin.
How to Use Aloe vera for Dry skin?
Mix 1 tbsp of Aloe vera gel with ½ tbsp of Honey and apply it all over your skin. Leave it on for 10 minutes and rinse thoroughly with water.
2. Treats Minor Burns:
Several studies show that Aloe vera can effectively heal a first to second degree burn on the skin. Aloe contains a special compound called Aloin, known for its anti-inflammatory properties. Besides, it contains another compound called Carboxypeptidase, which can quickly alleviate pain and offer soothing relief. It is common to experience a few minutes of sting and pain after applying aloe gel on the wound, which will subside in no time.
How to Use Aloe vera for Treating Burns?
Just apply fresh Aloe vera gel on the affected region and leave it on. Reapply whenever necessary for faster results.
3. Improves Skin Elasticity:
Have you noticed folds and wrinkles on your skin? These could be early signs of aging, which you shouldn't ignore. Aloe vera helps in diminishing their appearance by hydrating and nourishing your skin cells. It also improves elasticity by boosting the collagen levels, thanks to it special molecules called Sterols. Using Aloe vera regularly on your skin can make it bouncy, elastic and youthful!
How to Use Aloe vera for Treating Wrinkles?
Mix Aloe vera Gel with a few drops of Olive Oil and massage around the eyes, face, forehead, mouth and neck. Leave it until dry and wash off with water.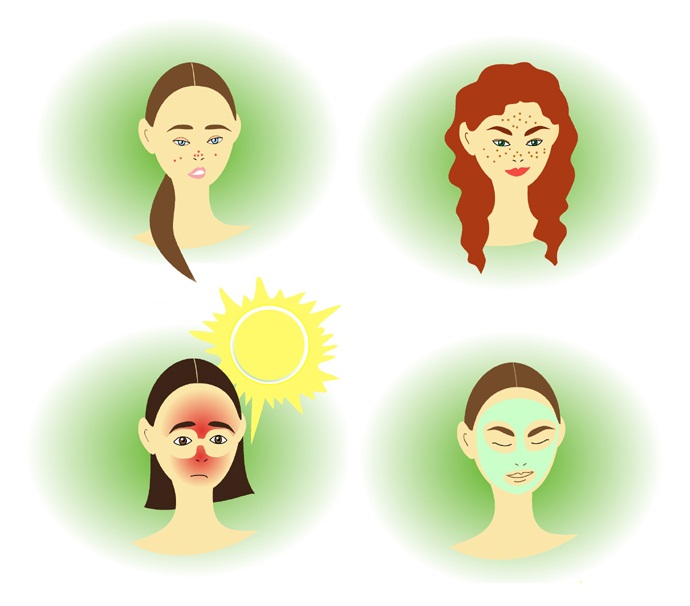 4. Lightens Complexion:
Another key benefit of Aloe vera for skin is its skin lightening properties. Aloe vera contains certain chemicals called Aloin and Aloesin which are known to kill melanin cells in the skin and reduce the appearance of dark patches. Aloe gel may be particularly beneficial for those suffering from hyperpigmentation due to sun exposure. This is because Aloe can shield your sun from the harmful UV radiation and also inhibit the production of excess Melanin in skin.
How to Use Aloe vera for Pigmentation and Dark Spots?
Add some Tomato Juice to Aloe vera Gel and apply it evenly on the affected regions of your face. Leave the pack on your skin for 15 minutes and wash thoroughly with water.
5. Controls Excess Oil:
If your skin looks like a shiny, freshly-oiled pan, try applying Aloe vera and watch the magic. The natural astringent properties of this ingredient can soak up excess oil, along with reducing the size of the pores. This indirectly helps in preventing the chances of breakouts in the future. At the same time, Aloe vera can moisturize your skin and make it supple without leaving an oily layer.
How to Use Aloe vera for Oily Skin?
Mix Aloe vera Gel with lemon juice and apply it all over your face evenly. Leave it on for 20 minutes and rinse it with water.
6. Deep Cleans Your Skin:
Does your skin lackluster and radiance? It's time for some deep cleansing with Aloe vera! The deep cleansing action of aloe gel helps in drawing out all the dirt, impurities and pollutants accumulated in the skin pores. Also, the Salicylic acid present in it can gently exfoliate the dead cells on skin without drying it out. Aloe gel can also be used as a natural makeup remover!
How to Use Aloe vera for Cleansing Skin?
Add some baby oil to Aloe vera gel and mix well. Now apply the mixture all over your face and massage in circular motions. Use a cotton ball to wipe off the excess product and the dirt from the skin. Once done, rinse your face thoroughly with water.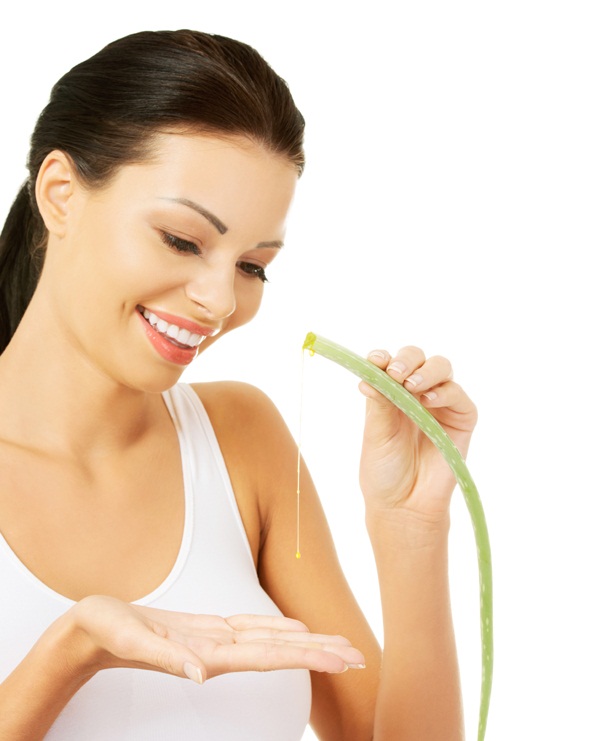 7. Controls Acne and Blemishes:
Aloe vera has potent antimicrobial properties which are particularly effective against treating acne. It works by killing the existing bacteria and stopping them from multiplying in the pores. The Salicylic acid present in aloe can dry out the zits and reduce their size. Also, Aloe vera contains special compounds called anthraquinones, which are effective in reducing acne scars and blemishes.
How to Use Aloe vera for Acne-Prone Skin?
Make a facemask with 2 tbsp of honey, 1 tbsp of pure aloe gel and a pinch of Cinnamon powder. Apply the mixture evenly on skin and leave it on for 10-15 minutes. Wash thoroughly with water.
8. Reduces Redness and Irritation in Sensitive Skin:
The coolant properties of Aloe vera can offer quick relief from redness and irritation in sensitive skin. Being a water-rich ingredient, Aloe doesn't cause any adverse reactions on your skin and instead works very gently. The gel contains a compound called Acemannan which is known to aid in faster healing of wounds, particularly those caused by allergic reactions.
How to Use Aloe vera for Sensitive Skin?
Mix Aloe vera gel with some rose water. Apply the mixture all over your skin and leave it until dry. Now wash your face with cool water and gently pat dry.
After reading these Aloe vera benefits for skin, we are pretty sure you are tempted to get a plant home! Well, even if you don't have one, try sourcing pure and organic Aloe gel from trusted brands, which also works just fine. Do you have any more secret beauty recipes with Aloe vera? If yes, we are curious to take some tips from you!