Highlights
EFLU student protests alone against CAA, as university bans gatherings
Annexure 5 puts students in a fix
Hyderabad: In what seems to be a unique way of protest, a student from EFLU (English and Foreign Languages University) Hyderabad, held a placard saying 'Say No to NRC & CAA' and stood in front of the library on December 24. As students across campuses have come out in protest against the citizenship exercise, not many EFLU students have been able to protest peacefully, even within their campus.
This is because EFLU students face a different kind of a 'crackdown'- one that is imposed on them by the University. As per Annexure 5, students are expected to agree that they will "not to participate in any protest/demonstration which is not in accordance with the laid down rules and regulations of the University." Annexure 5 is an undertaking that every student has to mandatorily sign during the time of admission.
It was in such a scenario that Nandu Pradeep, a PhD student from EFLU, decided to do her bit, come what may. On a usual Monday, the PhD student, who is in her second year, had stood in front of the library from 10.30 in the morning, till 7 in the evening.
Speaking to NewsMeter, Nandu said, "After seeing me standing, the security came and asked my name. I told them I am doing a peaceful protest. They said that they have to report to the Proctor. After that, the Proctor came and said, 'Don't make unnecessary issues, or else I will call the police.' I said, fine, call the police."
EFLU's notorious history of stifling protests
This is not the first time that the EFLU administration has used the police card to stifle protests. Even as students gathered to join CAA protests that happen outside of the university, such as in Osmania, they had to go individually. "It's not the discipline, but the very idea of gathering together is their problem," adds Nandu. Earlier on November 23, the students from EFLU had tried to take out a peaceful human chain rally, in solidarity with JNU students who were protesting against the fee hike. However, the moment the students gathered outside campus, police along with the university administration had threatened them with disciplinary action.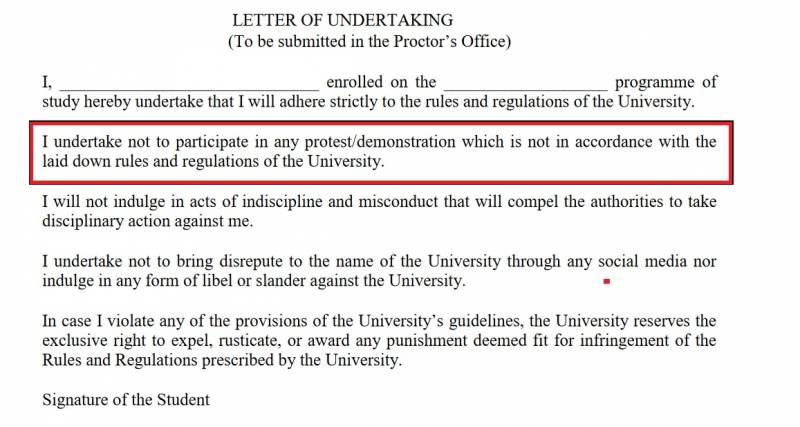 Nandu also alleges that teachers of the university have not supported the students the way they should. "They have condemned the CAA and NRC in a statement released on December 23, and I appreciate that. But they have not extended their solidarity to my protest. Some have even walked past me, without a second glance. The admin's pressure affects us as equally as it affects them. So why do they hesitate to support us?" asked the student, who is pursuing her doctorate in the Department of Indian and World Literature, EFLU.