Vijayawada: In what could be good news for liquor lovers in Andhra Pradesh, the High Court, on Wednesday, ordered the state government to allow carrying three liquor bottles per individual from other states as per the GO 411, like in the past.
The High Court was hearing a writ petition filed against the AP government for not allowing carrying liquor bottles from other states and registering cases against those carrying even the minimum number of liquor bottles from other states. During the hearing, the petitioners alleged that the officials of the Special Enforcement Bureau (SEB) were seizing the liquor.
The 75 per cent tax imposed on liquor by the Andhra Pradesh government and non-availability of most popular liquor brands in Andhra Pradesh is forcing winebibbers in parts of the state to visit neighbouring Odisha, Telangana, Tamil Nadu and Karnataka to buy the non-available brands and also return buying a few of them.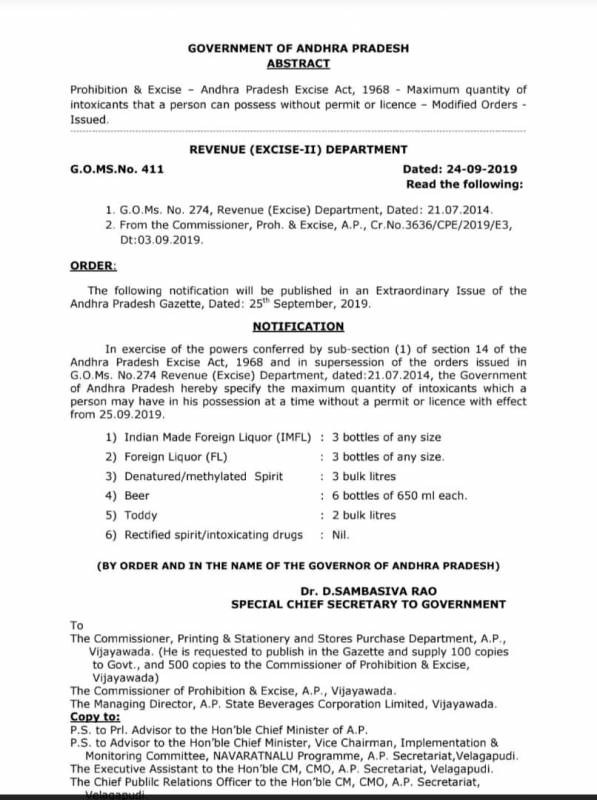 The restrictions and additional tax on liquor imposed by the state have led to a surge in bootlegging from neighbouring states. The winebibbers are using the interior roads instead of the highways and are hence, able to cross the borders, but a few of them are being caught and booked.
In July, the Krishna district police destroyed liquor worth Rs75 lakh (over 14,230 liquor bottles) imported from other states using a road roller.
Now, the High Court orders will enable winebibbers to carry three bottles while returning home to AP from other states.