Coronavirus Live Update: AP reports 17 new Covid-19 cases in a day, majority linked to Nizamuddin meet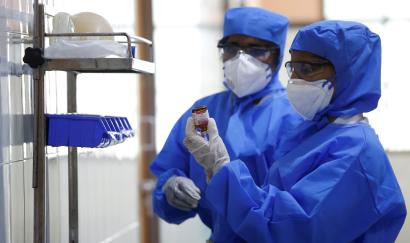 Vijayawada: Andhra Pradesh on Tuesday saw a significant jump in COVID 19 cases after 17 new patients including a 10-year-old boy tested positive. With this, the total number of positive cases in the state have reached 40.
Of the 17 new cases, 14 are directly linked to Nizamuddin religious meet in Delhi, while three returned from Madina.
Chief Minister Jaganmohan Reddy, in a review meeting with health officials, has appealed to the Nizamuďdin travelers and their contact persons to voluntarily come and take treatment. He instructed health department and police department to coordinate and identify the fellow travelers, test them, and shift to quarantine centers in case of any symptoms.
He further ordered the officials to ensure that there should be no public gatherings at any cost and strictly implement the relaxation time in urban and rural areas as per the protocol.
"Officials are to conduct a survey in every house in urban areas. The urban areas should be more concentrated as they are prone to virus infection," the Andhra chief minister said.
He also sought details on task force work in districts and instructed officials to make use of market yards' chairman and fill the vacant chairman posts. Officials were asked to set up a distribution network that coordinates from the village level to the city level and supply the goods based on the demand in the respective villages and cities. The CM sought details on aqua and agriculture-related sectors from the officials, for which the officials said that of the 69 processing units in the state, 41 are functional.
"Fisheries department officials are coordinating with control rooms in districts to issue passes to the workers working in processing units. Moreover, products are being exported to America and China; 13 containers from Visakhapatnam and 4 containers from Kakinada have been exported on Monday," authorities confirmed.
Prakasam district records most number of COVID-19 cases
Prakasam district of Andhra Pradesh has topped the list with 11 cases, followed by Guntur with 9, Vizag 6, Krishna district 5, East Godavari 4 and Anantapur 2 cases. One each case was reported from Chittoor, Kurnool and Nellore.
Sources said that two of 40 people who attended the religious meet in Delhi died on March 29. However, they were tested negative. Two other deceased hailed from Old RR Pet of Vijayawada and Guntur.
In all, 748 samples have been tested in Andhra Pradesh of which 40 have come back positive. Around 708 have come back negative. The state government said that 30,693 people are under home isolation while another 262 are under observation in different hospitals.