App built by 19yo lets you drive around the roads of Khairatabad and Gachibowli, sitting at home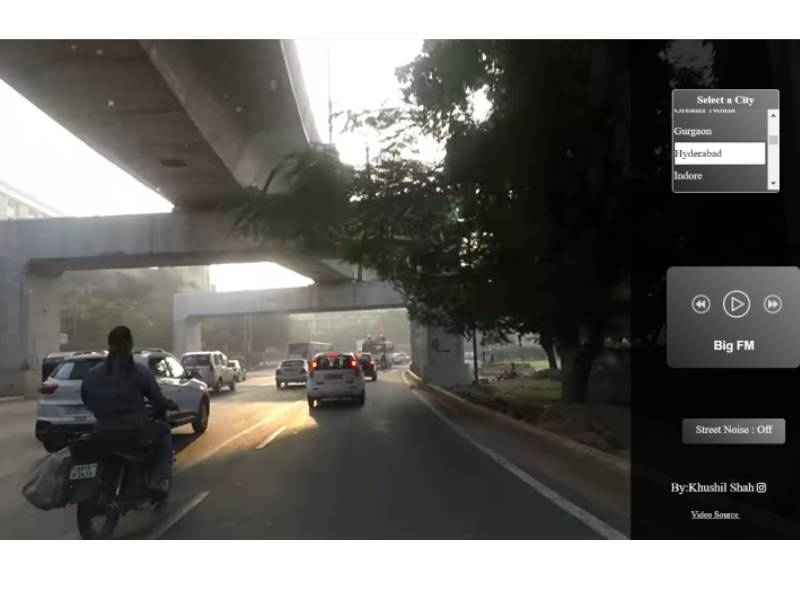 Hyderabad: A web-based application, Musical Drive, lets you drive around the roads of Hyderabad from the comfort of your home. Paired with several radio stations to choose from, people can now simply travel from Khairatabad to ORR to Gachibowli to Tolichowki, with just a click
Developed by the 19-year-old Khushil Shah, the application lets you take a road trip while listening to the radio and tuning into AR Rehman, Mohammad Rafi, Diljeet, and even Jimmy Dean.
"I worked on it during the lockdown when people were not able to go out of their homes," Khushil commented on a call with NewsMeter, adding that he was pushed to create the application by his father. "He saw something similar for countries abroad, and asked me to make one with Indian cities," he said.
Currently a student of BTech (IT) at KJ Somaiya College of Engineering in Mumbai, the 19-year-old Khushil worked on the application with his brother and finished it within 5 days. It was launched in May, and within two weeks Musical Drive crossed one million views, getting an average of one lakh views per day. To date, the application gets approximately 60,000 views daily.
The application gives you the option to select any one of the 36 cities featured in the drop-down list, including Delhi, Mumbai, and Bangalore. You can also choose any radio channel from the 7 that feature on the site. Once you chose your desired spot, decide if you want the street noise on or off, you can enjoy seeing on your screen the roads of your beloved city, and embrace the nostalgia.
It also features cities from the United States of America, the United Kingdom, and the United Arab Emirates. "While initially I only had Indian cities, I decided to feature foreign roads when Indians living abroad contacted me," Khushil added.
On being inquired whether he was able to garner any income from the same, Khushil commented, "I attempted to put up advertisements but they did not look good on the scenery, so I removed them within 10 days."
To start your journey, click here.