Delhi: "Can you please make the pollution stop? It is hurting my eyes and throat," wrote five-year-old Radha Sarin in her letter to Prime Minister Narendra Modi.
Radha is among 2,000 students who have made similar appeals to the PM as they invested their trust in the adage "the pen is mightier than the sword", hoping their efforts will bring some relief from the pollution that is choking the National Capital Region.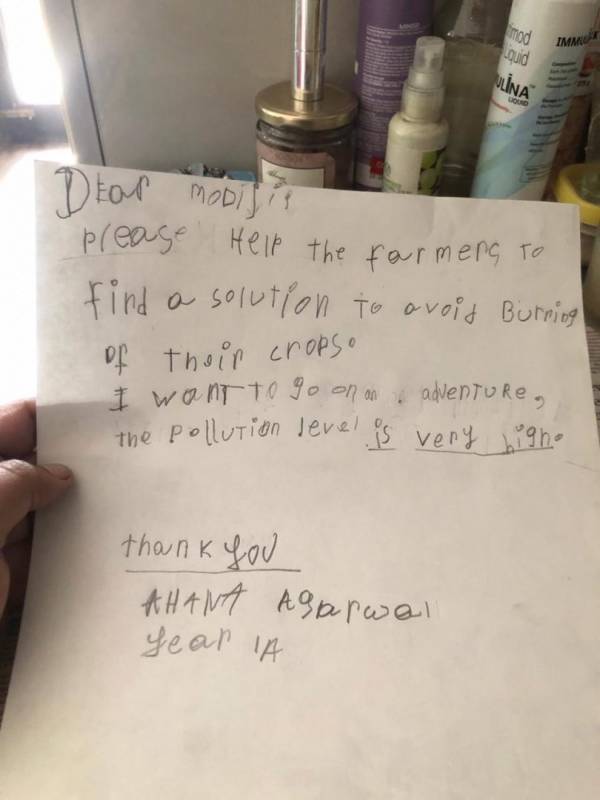 Students of a few schools in Delhi and Noida have launched #BachokiManKiBaat and are writing letters and emails to Modi sharing what they feel should be done to tackle the pollution.
"God has given us beautiful faces, why should we hide behind a mask? I want to go out and play but can't. I want to breathe properly and not take so many medicines," continued Radha in her letter.
Children in Delhi are suffering from health issues due to the pollution and it has become, very difficult for them to carry on with their day-to-day activities like practising their sports, reads another letter by 13-year-old Rahil Kochhar. He adds, "I am an athlete and it is very disheartening if I am forced to stay indoors and miss my district and national events. Running is my passion and staying inside and missing my daily training kills me. We will be happy to help you in whatever it takes to find a solution to this intoxicating problem."
Bhavreen Kandhari, an environmentalist and a concerned parent, the brain behind #BachokiManKiBaat, told NewsMeter: "Schools, have actively taken part and have helped children to write letters. We are also getting letters and emails from other cities. The students are really concerned and are penning down their issues accurately."
On Monday, Kandhari said, more students will write letters. "All these letters will be posted to the Prime Minister's Office."
Those schools that actively participated in #BachonKiMannKiBaat are The Sriram School, Aardee School, Step By Step School, Sanskriti School, South Delhi Public School, Manav Rachna International School and Dr Radhakrishanan International School.