Hyderabad is a Pet Lover's Paradise, especially dogs, apart from being the city of pearls and a happening place for Biryani! The city proudly houses many animal welfare organizations and pet clinics. Some of them are Blue Cross of Hyderabad, People for Animals, Animal Rescue and Rehabilitation Society, etc. Here is a list of pet clinics and animal care centers in Hyderabad to keep your furry friends safe, happy, and healthy!
Top 10 Pet Clinics in Hyderabad:
1. The Animal Care Clinic:
This veterinary hospital in Hyderabad is just right for those of us who want to give our pets the same amount of care we would give ourselves. The clinic provides a multitude of services ranging from grooming, training to complicated surgeries, and even exotic pet medicine. They also help to arrange travel certificates and microchipping. It is a multi-speciality hospital with a team of able doctors and staff who provide a snug and safe atmosphere. They have an in-house pet shop that has all the accessories and treats that your pet needs.
Address: 8-2-414, Road No-4, Banjara Hills, Opposite Mount Kailash Apartment, Banjara Hills, Hyderabad, TS 500034, Phone: 040 2335 2474
2. Vet N Pet Hospital:
Vet N Pet is one of the best vet hospitals in Hyderabad known for providing quality veterinary services where you can safely take your pet. It can be called a one-stop solution for the complete healthcare needs of your four-legged friend. They have all the latest equipment and facilities for surgeries and are capable of handling any kind of emergency. Their services include x-ray, scans, grooming services, lab work, along with emergency veterinary services. They also offer round the clock emergency care services.
Address: H. No 8-2-293/82/369, Plot No 369, Road Number 82 Phase 3, Film Nagar, Hyderabad, TS 500096, Phone: 040 2333 6111
3. Olive's Pet Clinic:
This animal hospital in Hyderabad is a place where you can confidently take your pet for any type of care. Their services included both minor and major surgery. What makes this clinic special is that they offer 24/7 emergency care services and trained to handle the treatment of all kind of animals, even exotic ones. Animal care includes grooming, birth control operations, vaccinations, general check-up, etc. The clinic has a shop in the same building stocked with pet supplies and all that you need for your pet.
Address: 1-2-217 /2, Road No 10, Gagan Mahal, Domalguda, Hyderabad, TS 500029. Phone: 95507 25960
4. Dr. Dog Pet Hospital:
Dr. Dog is a super speciality veterinary hospital in Hyderabad that provides top quality medical facilities for your pets from dogs, cats to exotic birds, etc. This hospital has hi-tech medical equipment ranging from dialysis, x-ray machines, ECG to 24-hour service, etc. They also provide hostel and grooming facilities. They also offer tertiary care for dogs in Hyderabad. What sets this center apart from other places is that it has a dog ambulance service for any emergency. They have a team of highly qualified doctors equipped to perform different types of surgeries.
Address: 564/A42, Near Federal Bank, Jubilee Hills, Road Number 92, Film Nagar, Hyderabad, Telangana 500034, Phone: 040 4004 8100
5. Mr. Vet Small Animal Hospital:
We all know our pets need special care and treatment, and this place is just the one for you and your loved one. It is one of the top pet hospitals in Hyderabad, as they have a team of trained experts to cater to all the needs of your pet. They provide services like grooming, general health check-up, orthopedic surgeries, cataract surgeries, spinal surgeries, joint replacement surgeries, pet boarding, emergencies, surgeries, etc. They can handle any kind of pet emergencies and explain and answer all your queries patiently. They have a stock of a wide range of products that your pet needs from toys to treats to grooming products.
Address: H.no 4, 92, behind Dog Park, Jayabheri Enclave, Gachibowli, Hyderabad, Telangana 500032, Phone: 096767 55544
6. Happy Pet Clinic:
This establishment in pet care is one of the top clinics in Hyderabad. They provide valuable service in animal welfare and care. They are a one-stop destination in providing pet care. They give utmost importance to customer satisfaction, and this is what has provided them with a vast base of customers that are growing day by day. They have a team of like-minded individuals working here who are very courteous and provide quality service in pet care. They are very prompt in their service and also patiently answer all our queries. It is a perfect place for anyone who loves their pets and wants them to have the best attention possible!
Address: 1-98/90, 15B, Rd Number 48, Megha Hills, Sri Sai Nagar, Madhapur, Hyderabad, Telangana 500081, Phone: 097041 31994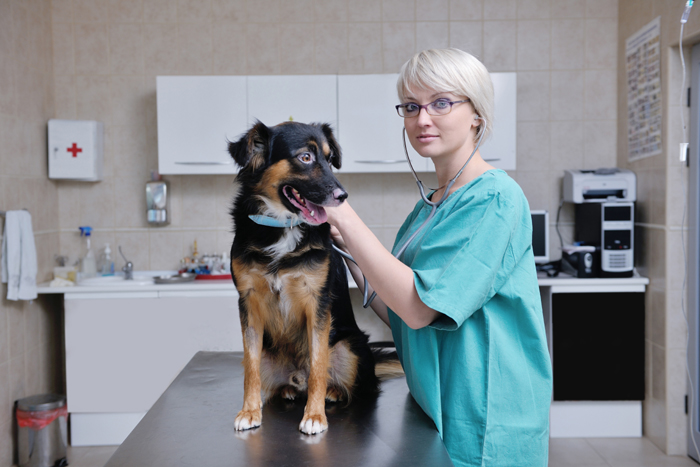 7. Cornerstone Pet Clinic:
Cornerstone is one place where your pet is in safe hands. They have a team of experienced doctors and consultants who are ready to clarify even the smallest of your doubts. Their services range from comprehensive physical examination, cat vaccinations, dentistry to general surgeries. They provide advanced viral tests for cats along with Ayurvedic summer pills for pets. Two dedicated veterinary doctors support this clinic, and one of them specializes in tortoises, turtles, birds, etc. The clinic is open 24 hours for emergency services.
Address: Near Indian Bank, NBT Nagar, Banjara Hills, Hyderabad, Telangana 500034, Phone: 088974 88821, 082973 97702
8. Hannah's Pet Clinic:
Hannah's Pet Clinic is one place where your pet can get quality care for a very reasonable fee. They have an incredible team of doctors and staff here. The services offered here are general check-up, vaccination, consultation, pet shop, training, surgery, pet grooming, and pet boarding. They maintain charts for deworming and treatments, which makes taking care of your pet very easy.
Address: RTC Colony, Madinaguda, Chanda Nagar, Hyderabad, Telangana 500049, Phone: 088864 77761
9. Neighbourhood Pet Clinic:
The doctor here is highly qualified and takes excellent care of pets. He is very well known for his services. The clinic is where everything is available under one roof. It has all the latest technology and equipment a dog needs for treatment. The clinic has an established clientele over the years. The clinic offers services such as vaccinations – distemper and rabies, etc., wound care, fractures, minor to major surgeries, x-rays, EKGs, ultrasound, and lab tests.
Address: 12-13-705/13/4, Street No.13, Lane No.4, Beside Dal Mills Tarnaka, Secunderabad, near Sunday Market, Hyderabad, Telangana 500017, Phone: 094904 56783
10. Claws & Paws:
Claws & Paws is a multi-speciality hospital that provides quality healthcare for your pets. They have dedicated veterinarians who take excellent care of pets. The doctor here is a well-reputed veterinarian who is very patient, compassionate towards animals. The clinic is hygienic, and the staff here are courteous and committed to pet care.
Their services include all types of surgeries and grooming needs. Everything that your pet requires, you get them here! Apart from this, they take care of immunizations, deworming, physiotherapy, etc.
Address: House No 39 A, Road No 10, Banjara Hills, Hyderabad – 500034, Near Coffee Affair, Lane Of Hyderabad School Of Business Phone: 040 6782 2377, 099635 50569
Having pets at home and interacting with them is one of the best ways of getting rid of our stress and keeping boredom away. They make lovely companions not only for our kids but for us too. It is our responsibility to look after the health of the four-legged members of our family. It does not suffice just to feed them, but scheduled visits to the vet and proper exercise are a must when we have a pet at home. Today there are so many clinics that help us not only to treat our pets but also show us ways and advise us on how to take care of them.
Now you know which clinic is right for your pet based on the proximity and convenience. Let us know your experiences! Wishing happiness to both you and your furry friend!