Hyderabad: Sunday, Suryakiran was eliminated from Bigg Boss house.
As usual, Nagarjuna interacted with the housemates. The inmates took part in a 'Dance Jugalbandhi'. One male housemate and one female housemate will compete with each other in dance.
Monal Gajjar and Mehaboob danced to 'Jigelu Rani' song from Rangasthalam. Sohel Ryan and Karate Kalyani danced to 'Pedda Puli' number from Chal Mohan Ranga. Harika and Noel danced to 'Neethone Dance tonight' from Dhruva.
Devi Nagavalli and Abhijeet danced to 'Seetimaar' song from Duvvada Jagannadham. Akhil and Divi danced to 'Mind block' number from Sarileru Neekevvaru. Suryakiran and Lasya danced to 'Nakkileesu Golusu' song from Palasa 1978.
Amma Rajasekhar and Gangavva danced to 'Ammadu Let's do Kummudu' song from Khaidi No.150.
Amma Rajasekhar and Nagarjuna were the judges for 'Dance Jugalbandi.' The woman team won the competition and gained access to the refrigerator for Real Mango drink.
Later, inmates played Pictionary. The housemates were divided into pairs as per their connections. One of them drew something on the chart while the other guessed a rhyme related to it. It was a fun game and everyone played it well.
Akhil was saved from elimination. He was followed by Mehaboob. Among Divi and Suryakiran, Nagarjuna revealed that Suryakiran was eliminated. Later, he joined Nagarjuna on the stage.
Suryakiran compared the housemates to animals as follows.
Monal - Peacock
Gangavva - Ant
Devi - Crocodile
Sohel Ryan - Rat
Abhijeet - Cat
Divi - Tortoise
Kalyani - Monkey
Mehaboob - Eagle
Harika - Snake
Sujatha - Dog
Noel - Fox
Lasya - Donkey
Ariyana - Owl
Akhil - Buffalo
Amma Rajasekhar - Lion
Suryakiran gave his positive opinions about the housemates and dropped Bigg Bomb on Devi Nagavalli. According to this, Devi will be duty-free for an entire day. She need not perform any household chores.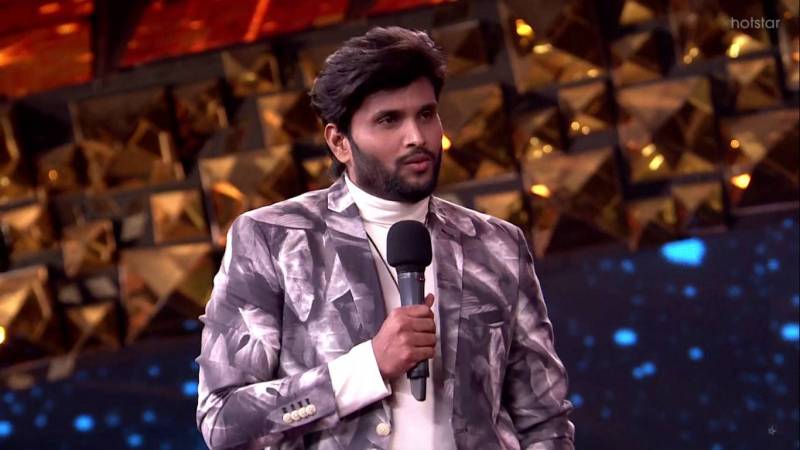 After Suryakiran's exit, Nagarjuna introduced a new inmate Kumar Sai Pampana. Kumar Sai is a comic actor who shot to fame for his role in films like Ee Rojullo and Bus Stop. He exuded confidence about winning the title.
On Monday's episode, we will see the reactions of the housemates to the entry of Kumar Sai Pampana.